My track Traveller's Path released yesterday and I'm super happy with how it's turned out - this one is very special to me.
But even though this was a 'solo' project there is a lot of effort and support from others that goes into making and releasing a track and I'd like to take a moment to offer some great big giant thanks.
Fortunately, quite a few of the people involved are on hive so the rewards from this post are split equally between @stickupboys @stickupofficial1 @stickupmusic @ambrosechappel and @fatasfunk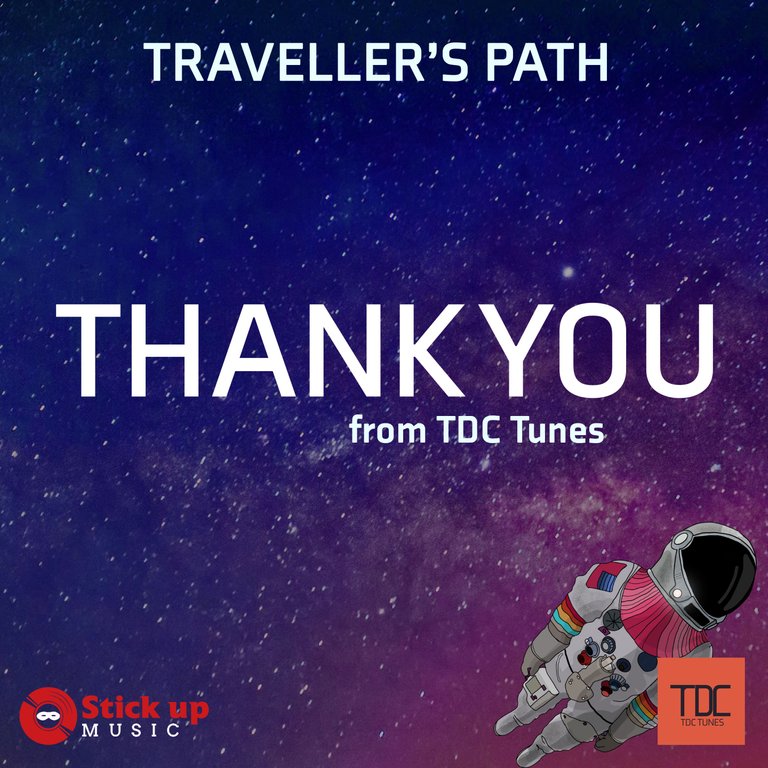 Here's some specific thanks...
Thanks to @stickupboys for introducing me to the Stick Up Music label, and for being ever supportive and awesome to work with - and not least for introducing me to Hive too!
Thanks to @stickupofficial1 representing the whole team at the Brighton (UK) based Stick Up Music label. Thanks for signing me - and for all the work going into getting a track released and distributed. I'm thrilled to be working with everyone there.
Thanks to Brains of Stick Up Boys (@stickupmusic) - for the mix feedback and general quality control.
Huge thanks to @ambrosechappel for creating the awesome artwork. I love it and it's getting some great feedback. I highly recommend Ambrose if you like this kind of style - he has a special offer right now on Fiverr to design music artwork for just £15.74 in just 7 days (though in my experience he will probably be a lot quicker!)...
https://www.fiverr.com/share/Pl91Ex
You also haven't seen the last of Ambrose's astronaut - as he's going to appear on some Traveller's Art NFT and the official Traveller's Path video, both coming next week.
And extra special thanks to @fatasfunk for the fantastic job mastering the track. Loz, at Fat As Funk mastering has been in the mastering game a long time and it utterly professional and great to work with Another extremely strong recommendation if you need music mastering (don't do it yourself - it is worth it!) Check out Fat As Funk here: https://fatasfunk.com/
Finally, not on hive (yet!) but giant thanks to my partner Chan and son Quentin, for being super supportive of me with all my music making endeavours - thanks for tolerating a whole room in our house being taken up by my studio as well as me disappearing into it at all sorts of hours. And finally for putting up with countless test mixes being played all over the house on different speakers!
My heartfelt thanks to all of you... I think I might have a little cry now!
---
If you didn't hear Traveller's path yet you can find it on all the usual places via here:
https://ffm.to/travellerspath