Ronnie Cuber (baritone saxophone), George Benson (guitar), Lonnie Smith (organ) and Jimmy Lovelace (drums). From the album It's Uptown (1966) by George Benson.
After appearing on four recordings by his mentor, organist Jack McDuff, in 1964, George Benson released for Prestige Records his first album The New Boss Guitar of George Benson backed up by a quartet also led by McDuff, in which he brings five original songs and plays guitar with a lot of feeling and an advanced technique, prevailing a cheerful funk and swing aesthetic. Then he collaborated on three other works by McDuff and one by organist Lonnie Smith.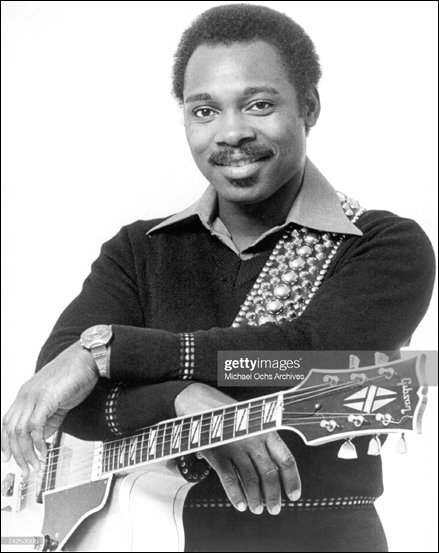 George Benson
In 1966 Benson launched It's Uptown for the Columbia label performing soul jazz, using Wes Montgomery's signature octave technique on one of his solos, and singing for the first time on three tracks. In 1967 he was featured on Alligator Bogaloo playing soul jazz with alto saxophonist Lou Donaldson and on Hallelujah Time! again by McDuff. He also introduced soul jazz The George Benson Cookbook (1967), in which he sings on one of the songs.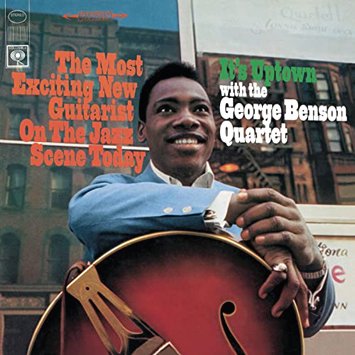 Album cover
However, the definitive breakthrough of his career came in 1968, as he starred on Midnight Creeper once more by Donaldson, Reach Out! by hard bop tenor saxophonist Hank Mobley, Miles in the Sky by legendary trumpeter Miles Davis, Taru by renowned hard bop trumpeter Lee Morgan, The Boss by organist and father of soul jazz Jimmy Smith, The Midnight Sun again by McDuff and Jaki Byard with Strings! by post-bop pianist Jaki Byard. Also in 1968 Benson published the pop jazz and soul jazz album Giblet Gravy for Verve Records with two compositions of his own and supported sometimes by a big band and other times by a quintet headed by acclaimed pianist Herbie Hancock.
George Benson