The Headhunters: Bennie Maupin (tenor and soprano sax, saxello, alto flute and bass clarinet), Herbie Hancock (Fender Rhodes, clavinet, ARP Odyssey synthesizer, ARP Soloist), Paul Jackson (electric bass, guitar, marímbula), Harvey Mason (drums) and Bill Summers (agogo, balafon, beer bottle, cabasa, congas, gankogui, hindewhu, log drum, shekere, surdo, tambourine). From the album Head Hunters (1973).
In 1975 Herbie Hancock released Man-Child featuring eighteen musicians and Maupin, Jackson, Mason, Clark and Summers collaborating. Then he left The Headhunters and went on to publish even more commercial albums, but the rest of the members switched to Arista Records, replacing him with singer and guitarist Blackbyrd McKnight, who had already appeared on Flood and Man-Child, and recorded Survival of the Fittest (1975), inviting flutist Joyce Jackson and three percussionist. Critics called it "the best space-funk album" and the rapport between musicians is perfect, with a rhythmic section that makes everything easy. Finally they launched Straight from the Gate (1978).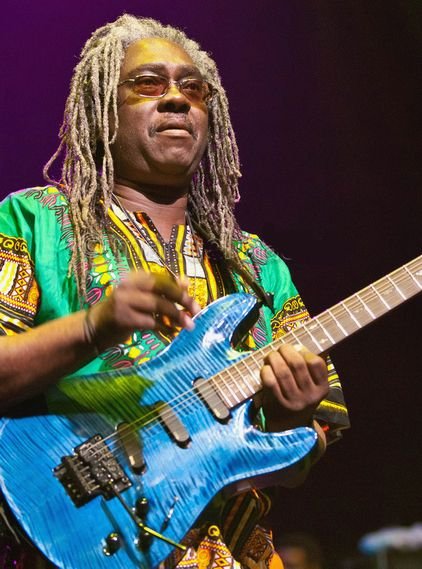 Blackbyrd McKnight
Later, in 1989, Hancock performed with a group he named The Headhunters II along with Bill Evans on tenor and soprano saxophones, Wah Wah Watson on electric guitar, Darryl Jones on electric bass, Leon "Ndugu" Chancler on drums and Mino Cinélu on percussion. Afterwards, in 1998, he decided to resurrect The Headhunters with the original line-up and issued Return of the Headhunters! for the Verve label with the same funk groove, a technological and stylistic update, and simplified rhythms for the new listeners. From 2003, Bennie Maupin (alto, tenor and soprano saxophones, flute and bass clarinet), Paul Jackson (electric bass), Mike Clarke (drums) and Bill Summers (percussion) added keyboardists like Ronald Markham, Robert Walter, Victor Atkins or Rob Dixon to replace Hancock and continue with The Headhunters.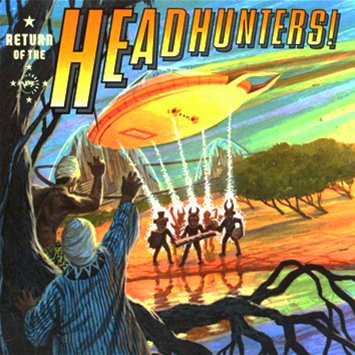 Return of the Headhunters! cover
They gathered different musicians and released Evolution Revolution (2003) for Basin Street Records including alto and tenor saxophonist Donald Harrison and four guitarists; supported saxophonist Rebecca Barry in Rebecca Barry and the Headhunters (2005); toured in 2007 with T.M. Stevens succeeding Jackson on electric bass, which resulted in the double album On Top: Live in Europe (2008); played they several times in 2009 with Harrison, keyboardist Geri Allen and electric bassist Richie Goods; recorded Platinum (2011) for the Owl Studios label in which Harrison participates with his saxes and also plays keyboards; they produced themselves Speakers In The House (2018); and remain active to this day.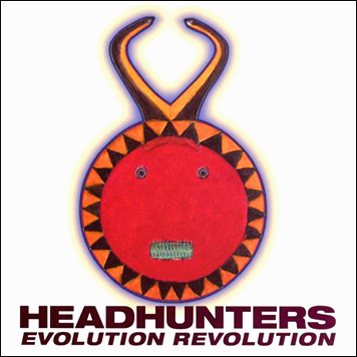 Evolution Revolution cover