Duke Ellington (piano), Charles Mingus (contrabajo) y Max Roach (batería). Extraído del álbum Money Jungle (1963).
En este álbum Duke Ellington sorprendió a los aficionados al jazz tocando con el contrabajista Charles Mingus y el batería Max Roach, siendo el segundo de su carrera en el que tocó a trío después de The Duke Plays Ellington (1953), y cinco de los siete temas fueron compuestos por él especialmente para esta sesión. En el 2002 el sello Blue Note sacó a la venta un CD con cuatro piezas más y cuatro tomas alternativas. Los músicos no quisieron ensayar, así que la propia grabación fue su primera experiencia tocando juntos teniendo la oportunidad de explorar libremente su creatividad. El álbum se puede clasificar dentro del estilo post-bop y recibió críticas muy favorables en las revistas Billboard y Down Beat.
In this album Duke Ellington surprised jazz fans by playing with double bassist Charles Mingus and drummer Max Roach, being the second of his career in which he played as a trio after The Duke Plays Ellington (1953), and five of the seven tunes were composed by him especially for this session. In 2002 the Blue Note label released a CD with four more pieces and four alternate takes. The musicians didn't want to rehearse, so the recording itself was their first experience playing together, having the opportunity to freely explore their creativity. The album can be classified within the post-bop style and received very favorable reviews in Billboard and Down Beat magazines.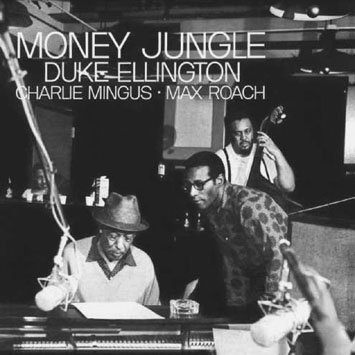 Cubierta del álbum
El tema que da título al álbum es un blues que empieza con notas que Mingus toca con fuerza, luego Ellington se une con acordes disonantes y Roach los apoya usando el platillo ride, la caja y el bombo. «Fleurette Africaine» es una balada construida a partir de una simple melodía expuesta por Ellington. «Very Special» es otro blues, esta vez bastante pegadizo. En «Caravan» Ellington interepreta la melodía en octavas bajas imitando un sonido orquestal y «Switch Blade» es un blues lento en el que Mingus demuestra su virtuosismo combinando sus líneas de bajo como respuesta a las ejecuciones de Ellington. En un momento determinado, Roach y Mingus discutieron, y este último se marchó, pero afortunadamente Ellington salió en su busca y lo convenció para que volviera al estudio de grabación. De hecho, los tres se negaron a reunirse de nuevo para la grabación de un segundo álbum que ya estaba contratado.
The album's title track is a blues that begins with notes that Mingus play strongly, then Ellington joins in with dissonant chords and Roach backs them up using ride cymbal, snare and bass drum. "Fleurette Africaine" is a ballad build from a simple melody delivered by Ellington. "Very Special" is another blues, this time quite catchy. On "Caravan" Ellington performs the melody in low octaves imitating an orchestral sound and "Switch Blade" is a slow blues on which Mingus shows his virtuosity by blending his bass lines in response to Ellington's playing. At one point, Roach and Mingus argued, and the latter left, but fortunately Ellington went out looking for him and convinced him to return to the recording studio. In fact, the three refused to meet again for the recording of a second album that was already under contract.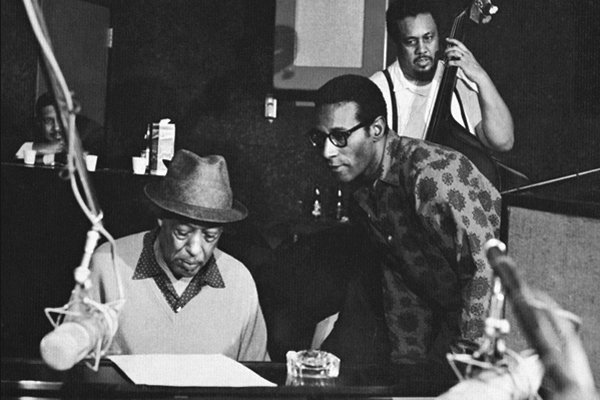 De izquierda a derecha: Duke Ellington (piano), Max Roach (batería) y Charles Mingus (contrabajo)
Mingus comienza a tocar, luego se le une Ellington y luego Roach. Ellington toca de forma excéntrica e impetuosa, con frases extrañas, aunque poco a poco se va imponendo la cordura. A veces Mingus abandona el walking y acompaña a Ellington de forma libre, pero a él no le importa y sigue tocando las armonías del blues de forma muy peculiar e incluso minimalista. Parece que Mingus va a romper el contrabajo de lo fuerte que lo toca mientras Roach acompaña al grupo de forma sólida durante toda la composición.
Mingus starts to play, then he's joined by Ellington and then Roach. Ellington plays in an eccentric and impetuous way, with strange sentences, although gradually sanity takes over. Sometimes Mingus gives up walking and supports Ellington freely, but he doesn't mind and continues to play the blues harmonies in a very peculiar and even minimalistic way. It looks like Mingus is going to break the double bass because of how hard he plays it while Roach backs the group in a solid way throughout the composition.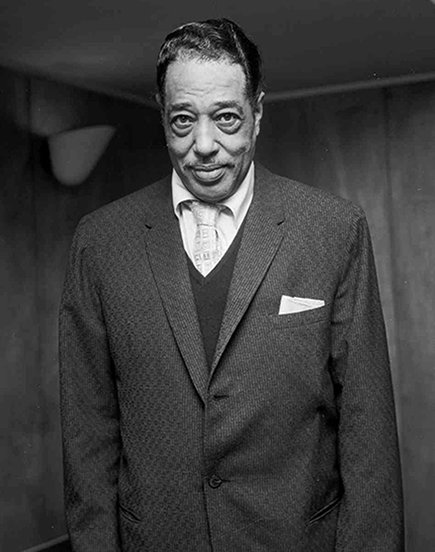 Duke Ellington
Translated with the help of DeepL