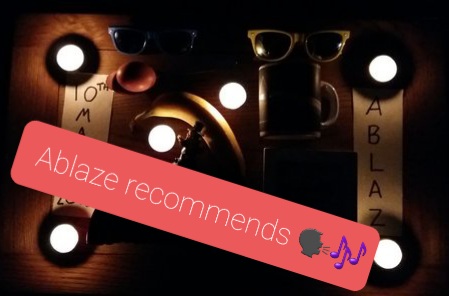 It's Tuesday folks and for our merry little band of ladies and lads, that means sharing tunes, good vibes and engagement. As another week disappears in the rearview mirror, we have loads of engagement and tunes flying around on Three Tune Tuesday and sure isn't that bloody fantastic! I hope you're ready to share three tunes from wherever you find yourself on this magical spinning lump of rock that we all call home and sure you might even sing us a tune if we're lucky?
Tuesday is here again, which can only mean one thing, another three tunes from me and hopefully from lots of you good folks too. How are all of you music loving rockers from Annaghdown to Algiers doing on this fine evening? Sure, isn't great to be alive all the same.
It's a time of the week when lovers of music, tunes and craic bring their blockchain community three of their finest and brightest tunes to share and celebrate, so let's roll on and let the tunes flow free.
This is my 86th week waxing lyrical for Three Tune Tuesday and we are still going strong.
It started off with me just sharing tunes into what seemed like a void, but little by little others joined and now I'm thrilled that we have a little corner of Hive where we come and share our tunes every Tuesday, and long may it continue. I almost stopped posting the songs and thoughts a few times, but I stuck with it and now interestingly it is my favorite thing about Hive. I love music and now I have a network of folks around the world who love music too and we share our tunes and catch up with each others tunes and discuss them each week. We get Pop, Metal, Rock, Gospel, Folk, Jazz, Rap, Hip-Hop, Trip-Hop, Reggae, Bippy bappidy Flange Hop. Ok I made that one up, but you get the idea, we are all learning about new artists, bands, back stories and sure isn't it just mighty!
Something that excites me the most is that we even get musicians sharing their covers of famous songs and even their own songs from time to time here on #ThreeTuneTuesday, which is a real favorite of mine, as that takes talent, time and dedication.
We are adding New posters and retaining our core of regulars here on #TTT which is fantastic. Let's keep it growing. Weekly, I try to find three or five hours to listen to all of the fantastic music shared from like-minded folk from around the globe and interact with their posts. This has led me to genres I don't know well and to some amazing new bands and artists and has even introduced me to some musical instruments I did not know existed. It also allows me to upvote smaller accounts and find some really interesting people from all over the world, which is heartening.
I hope you enjoy the tunes - be sure to tell me all about it in the comments below and above all else, please enjoy the rest of your Tuesday - smile at a stranger, rub a dog, be a nice human to someone who was not expecting it - peace out.
For those unfamiliar with TTT or Three Tune Tuesday....
The jist is as follows
Every Tuesday I'm going to share 3 songs which I like to listen to and I invite your feedback in the comments below. Better still, why not have a blast of your own Three Tune Tuesday and mention me in the post and I'll come and find the post and upvote it. If you could also use #threetunetuesday tag that would be great, as that is what I use when sifting through all the entries every Wednesday. It'll be a sweet way for us all to discover new music. You'll also be in with a chance of winning the prize - more on that later.
Here are my week eighty six recommendations for Three Tune Tuesday
** Drum roll please.....**
Paul Brady - The Island
Paul Brady started off in an Irish collective called Planxty along with renowned musicians Andy Irvine, Liam O'Flynn, Dónal Lunny, and Christy Moore. He eventually went his own way, but he learned a lot during his time playing with this great group of talented singers and musicians.
This first song is powerful and I agree with the statement below that I found on this song meanings website which I pasted below https://songmeanings.com/songs/view/3530822107858544871/.
It is indeed a love song, but the woman personifies the island of Ireland. After years and years of awful atrocities on both sides, it is great to see neighbours just being neighbours again here on The Island over the last thirty years. It will likely take one more generation for most of the hurt and anguish to be far enough away, I won't say forgotten as that is not fair to the memory of all those people who died. I'll also add that I grew up in Galway, so was very far removed from this history, all I know is what I read and heard second hand, it is a very different thing to those who lived through it and know much more than me.
"
According to Paul Brady, this song is half about the goings on in north ireland, and half a love song. Sort of like, a man is talking to the women he loves about what's going on, and then catches him self going on and on about something so depressing "But hey, don't listen to me
'Cause this wasn't meant to be no sad song
We've heard too much of that before
Right now I only want to be with you", and starts telling her how much he loves her.
"
They say the skies of Lebanon are burning.
Those mighty cedars bleeding in the heat.
They're showing pictures on the television.
Women and children dying in the street
And we're still at it in our own place.
Still trying to reach the future through the past.
Still trying to carve tomorrow from a tombstone...
But Hey! Don't listen to me!.
This wasn't meant to be no sad song.
We've heard too much of that before.
Right now I only want to be here with you.
Till the morning dew comes falling.
I want to take you to the island.
And trace your footprints in the sand.
And in the evening when the sun goes down
We'll make love to the sound of the ocean
They're raising banners over by the markets
Whitewashing slogans on the shipyard walls
Witchdoctors praying for a mighty showdown
No way our holy flag is gonna fall
Up here we sacrifice our children
To feed the worn-out dreams of yesterday
And teach them dying will lead us into glory...
Now I know us plain folks don't see all the story.
And I know this peace and love's just copping out.
And I guess these young boys dying in the ditches.
Is just what being free is all about.
And how this twisted wreckage down on main street.
Will bring us all together in the end.
And we'll go marching down the road to freedom....
Freedom
Paul Brady - Nobody Knows
It's another of Paul's well known songs, at least in Ireland anyhow and it is one of my favorite's. I'm not sure exactly what it is about this song, but it just strikes a chord with me. Released in 1991 on the Trick or Treat album, though I didn't really get acquainted with it until it appeared on an Irish compilation CD that my sister had and it quickly became one of my favourite songs on that CD. Have a listen sure and see what ya think yourself.
Johnny's got high expectations
He's gonna rise
Everyone knows that Johnny is ready
He's ready to fly
Up on the rooftop he turns to the crowd
No one is waiting
No one is there
Nobody knows why Elvis threw it all away
Nobody knows what Ruby had to hide
Nobody knows why some of us get broken hearts
And some of us find a world that's clear and bright
You could be packed up and ready
Knowing exactly where to go
How come you miss the connection?
No use in asking, the answer is nobody knows
No use in asking, the answer is nobody knows
Johnny will keep his illusions
What else can he do?
And you can pretend that it would be different
If it happened to you
But up on the rooftop, it's a whole other world
And who could see heaven
And not want to stay?
Nobody knows why Elvis threw it all away
Nobody knows what Ruby had to hide
Nobody knows why some of us get broken hearts
And some of us find a world that's clear and bright
Paul Brady - The Lakes of Pontchartrain
Right, I'll leave you with this one. Another of Paul's great songs, though this time a cover of an old classic, though I do think Paul's is the best version.
It's fair to say that the years have been good to him, he looks better today than he looked all of these years ago. Those glasses did nothing for ya Paul!
T'was on one bright March morning I bid New Orleans adieu
And I took the rode to Jackson town, me fortune to renew
I cursed all foreign money, no credit could I gain
Which filled me heart with longin' for the Lakes of Pontchartain.
I stepped on board of a railroad car beneath the morning sun
And I rode the roads 'til evening and I laid me down again
All strangers here, no friends to me 'til a dark girl towards me came
And I fell in love with a Creole girl from the Lakes of Pontchartrain.
I said my pretty Creole girl, me money here's no good
If it weren't for the alligators I'd sleep out in the wood
You're welcome here kind stranger, our house it's very plain
But we never turn a stranger out at the Lakes of Pontchartrain.
She took me to her mummy's house and she treated me quite well
The hair upon her shoulders in jet black ringlets fell
To try and paint her beauty I'm sure t'would be in vain
So handsome was my Creole girl from the Lakes of Pontchartrain.
I asked her if she'd marry me, she'd said it could never be
For she had got another and he was far at sea
She said that she would wait for him and true she would remain
'Til he returned for his Creole girl from the Lakes of Pontchartrain.
So fair thee well me bonny o' girl I never see no more
But I'll ne'er forget your kindness and the cottage by the shore
And at each social gathering a flowin' glass I'll raise
And drink a health to me Creole girl from the Lakes of Pontchartrain.
ThreeTune Spotify Playlist
Our good friend and regular Three Tune Tuesday poster @blackdaisyft added some tunes to a playlist in the early days and there are around 600 tunes there which is class. You can check those out here:
Three Tune Tuesday Spotify Playlist
HBI contest - win 5HBI
Share your Three Tune Tuesday songs below or create a post with #ttt or #threetunetuesday and mention me so I can find the post.
I'll pick the three songs I enjoyed the most each week as the winner and transfer 1 share of HBI to the winner when this post pays out 7 days from now, but wait there's more...
Three Tune Tuesday Sponsors
My old pal and brother from another mother @blanchy has also committed a share of HBI each week and so have three other Three Tune legends @blackdaisyft and @tengolotodo and @hannes-stoffel so now the winner will receive five shares of HBI, not too shabby at all folks.
Thanks a million to our sponsors above.
Best of luck!
Sin é, That's all folks, thanks for stopping by.
That's it for another week. Those are your three songs for week eighty six. Let me know what you think - good, bad or indifferent? Did you like them all or just one or two?
Also, as I said before, I love getting good steers for new tunes, so please tell me about the latest and greatest from your playlist below and I'll be sure to check em out.
The YouTube videos shared are not owned by me and I am simply sharing great music with the community here on Hive
Thanks as always for stopping by everyone.
Peace Out