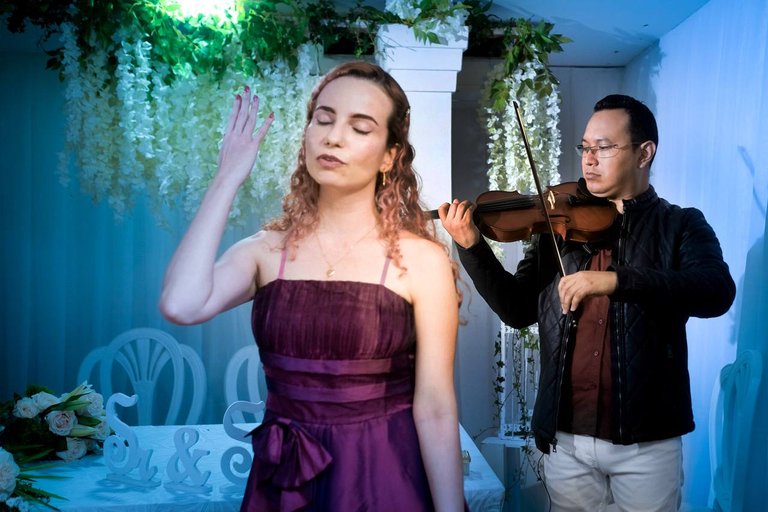 Hello my beautiful people of Hive, welcome to my blog! I hope you are doing great and that you had a great weekend.
Today I want to share a little bit of the experience I had when I was hired to sing at a wedding two weeks ago.
I am a very romantic person and I love to sing to love and peace as well, so I liked a lot the proposal I was given to work as a wedding entertainer.
I feel that music is a powerful instrument we have to move emotions in the hearts of the listeners and what better way to fill people with good vibes and positive emotions in their most important moments.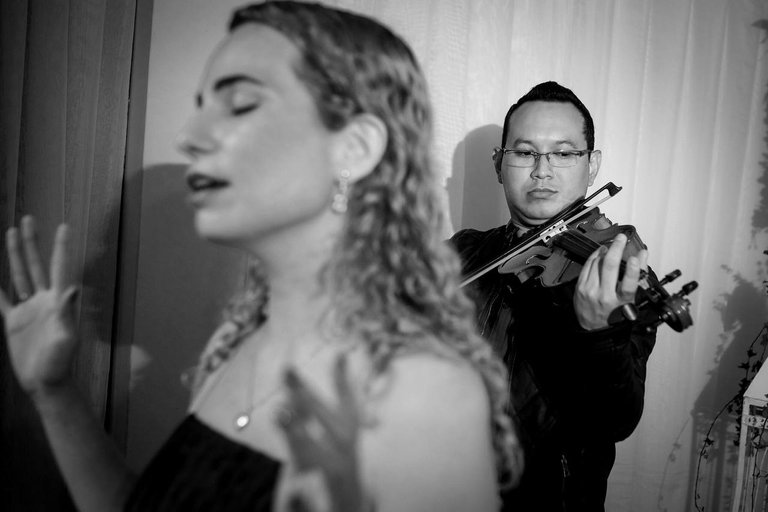 A wedding is a very special moment in people's lives, where two souls are being united by love and the desire to share a life together.
I wanted to do something special for this occasion and contacted a violinist friend to accompany me with his tunes.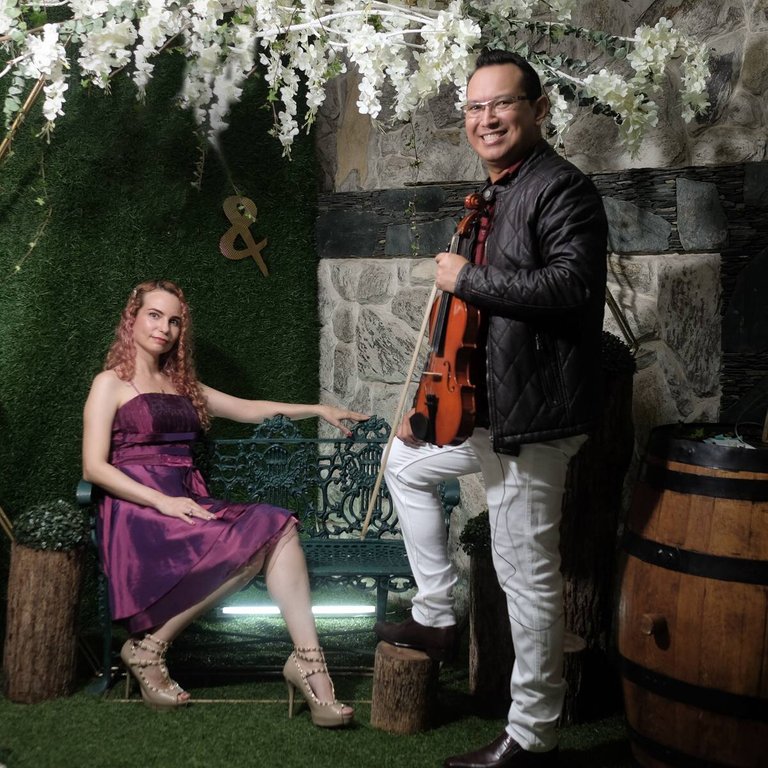 The whole thing took me by surprise, and I saw it as a blessing that came to me.
Although I had sung before at other cultural, religious and spiritual events it was my first time as a wedding singer.
The mother of the bride contacted me, she wanted my services and asked me for the traditional pieces of the Wedding March, Alleluia and Ave Maria, she also made a special request for me to sing a very beautiful traditional song from Ciudad Bolivar, viajera del río and a song I had never heard from the group IL DIVO "Hasta mi Final".
We had a week to assemble the pieces, and it was a great relief for me to know that my friend Oswar, the violinist already had experience playing at weddings, so I had most of the pieces assembled.
Viajera del Rio is a piece that I love and sing often, so it was a piece of cake. Hallelujah is a very well known song, so it wasn't hard for me to learn the words.
The song "Hasta mi Final" did take me a little longer, as I had never heard it before, but the lyrics were so beautiful that I learned them quickly.
The day of the wedding arrived and hours before Oswar and I met to fine tune the final details.
The ceremony was a civil ceremony and it was very emotional. The decorations were beautiful, all in white.
The electricity went out when it was our turn to enter, so we had to play and sing some pieces totally a Capella. The lack of electricity did not ruin the ceremony. There was a romantic atmosphere with candles.
For the bride and groom's dance it was my turn to play the song by the group IL DIVO and at that moment the electricity came on.
To close we played the traditional song Viajera del Rio.
It was all very nice. I really enjoyed the experience very much and I hope that this type of hiring will be repeated again because it would be the dream job for me.
I hope you enjoyed my publication. You are very much loved.
I send you all good vibes and positive energy to have a great week.
Cantar es mi Pasión
Hola mi gente bella de Hive, bienvenidos a mi blog! Espero estén muy bien y que hayan disfrutado de un buen fin de semana.
Hoy quiero compartir un poco de la experiencia que tuve al ser contratada para cantar en una boda hace dos semanas.
Soy una persona muy romántica y me encanta cantarle al amor y a la paz también, así que amé la propuesta que me hicieron para trabajar amenizando una boda.
Siento que la música es un instrumento poderoso que tenemos para mover emociones en los corazones de los oyentes y que mejor que llenar a la gente de buena vibra y emociones positivas en sus momentos más importantes.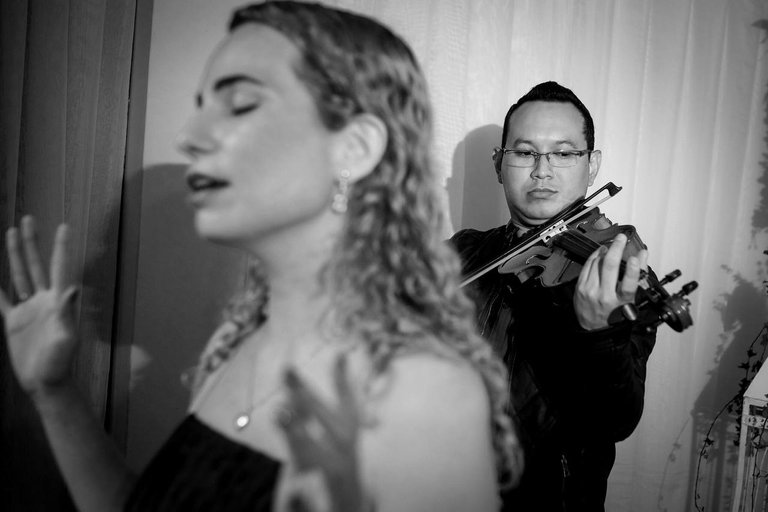 Una boda es un momento muy especial en la vida de las personas, donde se están uniendo dos almas llevadas por el amor y el deseo de compartir una vida juntos.
Quise hacer algo especial para esta ocasión y contacté a un amigo violinista para que me acompañara con sus tonadas.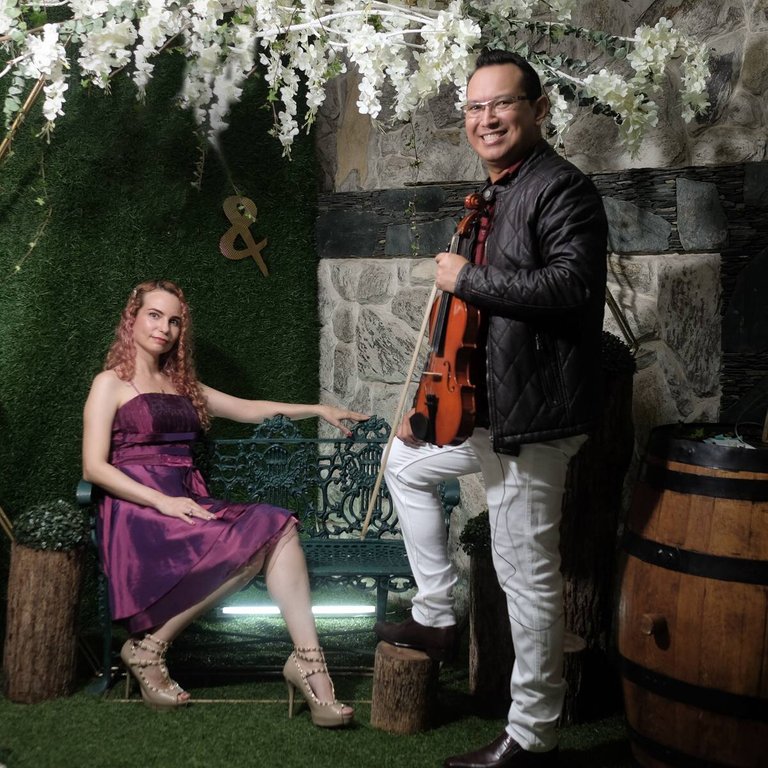 Todo este asunto me tomó de sorpresa, y lo vi como una bendición que llegó a mi.
Aunque había cantado antes en otros eventos culturales, religiosos y espirituales era mi primera vez como cantante de bodas.
La madre de la novia me contactó, quería mis servicios y me pidió las piezas tradicionales de la Marcha Nupcial, Aleluya y Ave María, también hizo una petición especial para que cantará una canción tradicional de Ciudad Bolívar muy hermosa, viajera del río y una canción que jamás había escuchado de la agrupación IL DIVO "Hasta mi Final".
Teníamos una semana para montar las piezas, y fue un gran alivio para mi saber que mi amigo Oswar, el violinista tenía ya experiencia tocando en bodas, así que tenía la mayoría de las piezas montadas.
Viajera del Rio es una pieza que me encanta y que suelo cantar a menudo, así que fue pan comido. Aleluya es una canción muy conocida, por lo que no se me hizo difícil aprenderme la letra.
La canción "Hasta mi Final" si me costó un poco más, ya que nunca la había escuchado pero la letra era tan hermosa que me la aprendí rápidamente.
Llegó el día de la boda y horas antes Oswar y yo nos reunimos para afinar los detalles finales.
La ceremonia fue por lo civil y estuvo muy emotiva. La decoración era muy bonita, todo en blanco.
La electricidad se fue cuando nos tocaba entrar, así que tuvimos que tocar y cantar algunas piezas totalmente a Capella. La falta de electricidad no arruinó la ceremonia. Había un ambiente romántico con velas.
Para el baile de los novios me tocó interpretar la canción de la agrupación IL DIVO y en ese momento llegó la electricidad.
Para cerrar tocamos la canción tradicional Viajera del Río.
Quedó todo muy lindo. La verdad disfruté muchísimo de la experiencia y espero que se repita nuevamente este tipo de contrataciones porque sería el trabajo soñado para mí.
Espero que hayan disfrutado de mi publicación. Se les quiere mucho.
Les mando full buena vibra y energía positiva para que tengan una semana bonita
CREDITS / CRÉDITOS
Photographs taken by the photographer:
Fotografías tomadas por el fotógrafo:
Gabriel López
---
Translated with www.DeepL.com/Translator