---
Happy day to all those who read these lines! I have been a while without posting on Hive Blog, but there has been a lot of work regarding music. Today I want to tell you part of the musical gifts I've had this last month through this Q-Inspired community, where so many friends have shared various anecdotes. Today I accept @mipiano's invitation to join this interesting space.
¡Feliz día para todos los que leen estas líneas!. He estado un tiempo sin publicar en Hive Blog, pero ha habido mucho trabajo respecto a la música. Hoy quiero contarles parte de los regalos musicales que he tenido este último mes a través de esta comunidad Q-Inspired, donde tantos amigos han compartido diversas anécdotas. Hoy acepto la invitación de @mipiano a unirme a este interesante espacio.
We have just performed at the Centro Nacional de Acción Social por la Música in Caracas, Venezuela the Opera I Capuleti e i Montecchi, by the composer Vincenzo Bellini. As you may know, I am a tenor in the Simón Bolívar National Choir and together with the Simón Bolívar Symphony Orchestra under the baton of Conductor Andrés Ascanio, nephew of our immortal Maestro Abreu, we performed four performances of the opera. My life partner and Hive user @Jhoxiris had the opportunity to perform her first leading role, which is why the excitement is double.
Acabamos de realizar en el Centro Nacional de Acción Social por la Música en Caracas, Venezuela la Opera I Capuleti e i Montecchi, del compositor Vincenzo Bellini. Como sabrán soy tenor en la Coral Nacional Simón Bolívar y junto a la Orquesta Sinfónica Simón Bolívar bajo la batuta del Director Andrés Ascanio, sobrino de nuestro inmortal Maestro Abreu realizamos cuatro funciones de la misma. Mi compañera de vida y usuario de Hive @Jhoxiris tuvo la oportunidad de realizar su primer rol protagónico, motivo por el cual la emoción es doble.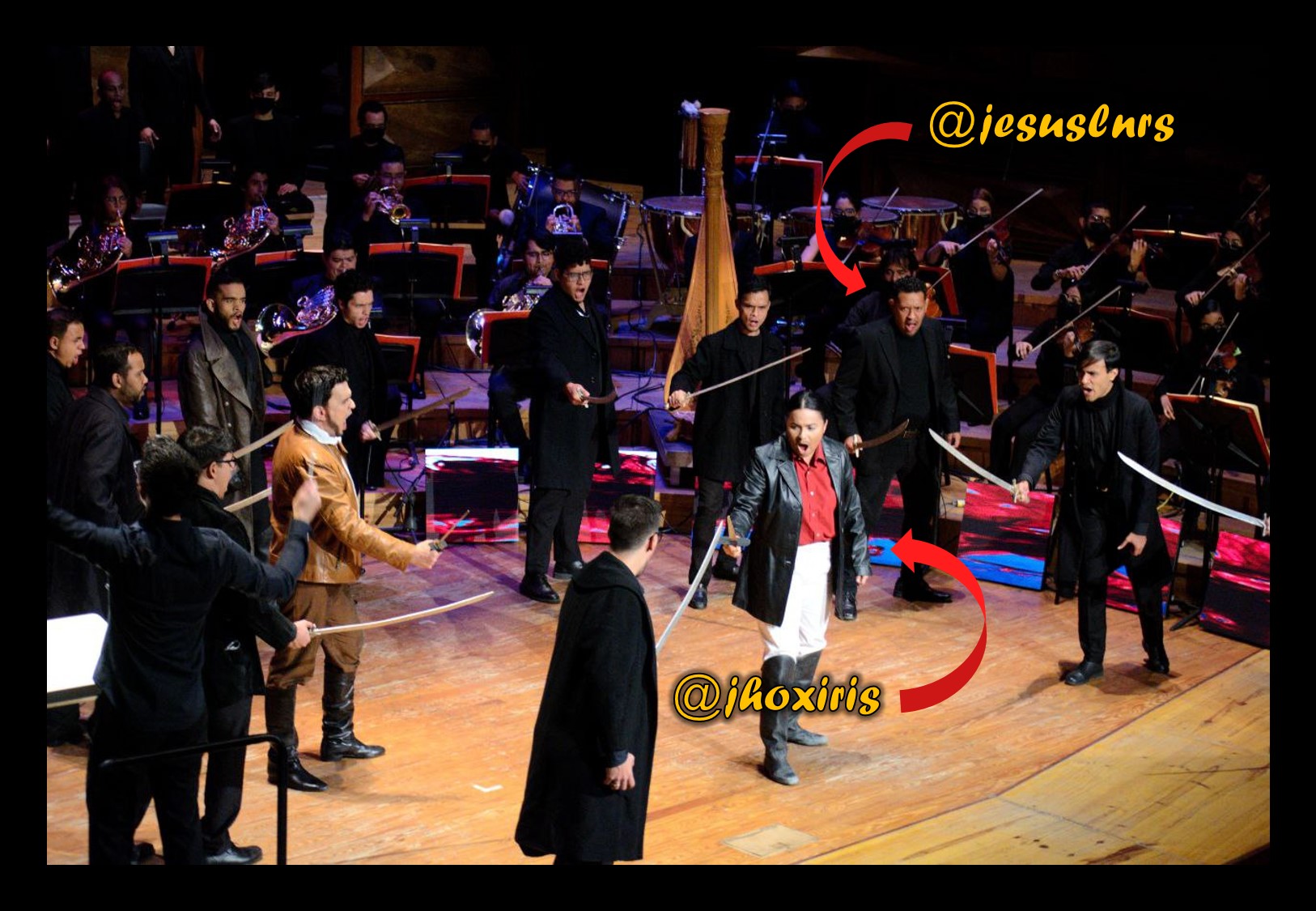 Photograph by Mariana Murillo, Soprano of my choir.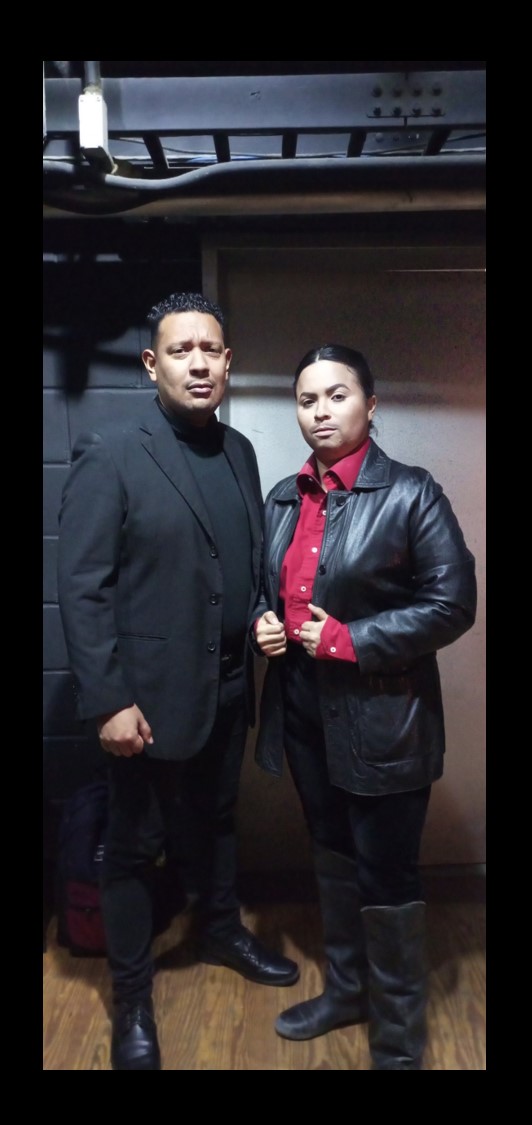 One of the anecdotes I will never forget was Jhoxiris' makeup and wardrobe. It was very shocking for me the first moment I saw him with a beard and mustache. Despite being a Soprano, the highest pitched voice in women, she portrayed Romeo, from the classic story we all know of Romeo and Juliet. For those who do not know about the world of opera, I will clarify that the reason why a woman plays the role of Romeo is because both characters were very young, at the age of puberty. In order not to cast children who are not yet professional singers, the composer decided to place a mezzo soprano female voice to accompany Juliet and give both voices a childlike singing sensation that would not be felt if performed by a tenor or baritone. The strange thing is that our stage director decided to give Romeo a beard. I accept, that was strange... Possibly as a visual matter for the audience, since being so young Romeo shouldn't have more beard than me 😅
Una de las anécdotas que jamás olvidaré fue el maquillaje y el vestuario de Jhoxiris. Fue muy impactante para mí el primer momento en que le vi con barba y bigotes. A pesar de ser Soprano, la voz más aguda en las mujeres, ella representó a Romeo, de la clásica historia que todos conocemos de Romeo y Julieta. Quienes no conozcan sobre el mundo de la ópera, les aclaro que el motivo por el cual una mujer interpreta el rol de Romeo es porque ambos personajes eran muy jóvenes, en la edad de la pubertad. Para no poner a actuar a niños que aún no son profesionales del canto, el compositor decidió colocar una voz femenina de mezzo soprano para acompañar a Julieta y darle a ambas voces una sensación de canto infantil que no se sentiría si lo interpretara un tenor o barítono. Lo extraño es que nuestro director de escena decidió colocarle barba a Romeo. Lo acepto, eso fue extraño... Posiblemente por un asunto visual para el público, ya que al ser tan joven Romeo no debería tener más barba que yo 🤣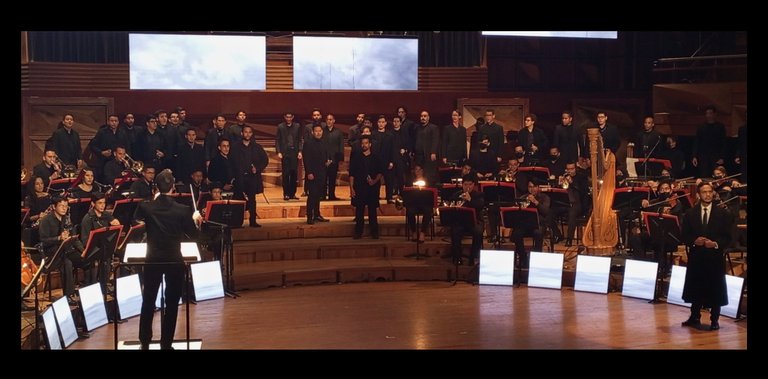 Photograph by Mariana Murillo, Soprano of my choir.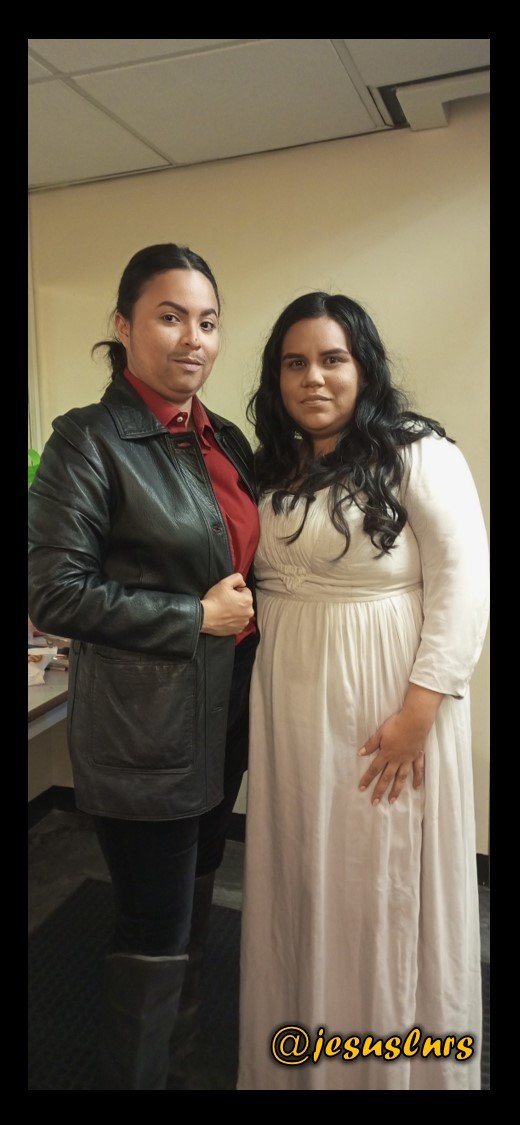 Romeo y Julieta (Jhoxiris y Yeralmy)
I think that one of the most beautiful details of working in El Sistema de Orquestas y Coros here in Venezuela is to see how dreams materialize by giving opportunities to our talents, our musicians, being able to look for people from outside, in this company people are prepared and motivated to develop as artists. The opera has 5 important roles, Capellio, head of the Capulets, Julieta, Capellio's daughter, Romeo, head of the Montagues, Tebaldo, Julieta's fiancé and Lorenzo, Capellio's advisor. Although there were three casts, all singers of my choral group, in this post I want to highlight the work of my colleagues Yeralmy Piaspam (soprano), Jesús Herrera (tenor), Douglas Romero (bass), Abraham Ramos (baritone) and of course Jhoxiris Medina (soprano).
Creo que uno de los detalles más hermosos de trabajar en El Sistema de Orquestas y Coros acá en Venezuela es ver como se materializan los sueños al brindar oportunidad a nuestros talentos, nuestros músicos, pudiendo buscar gente de afuera, en esta empresa se prepara y motiva a las personas para desarrollarse como artistas. La opera tiene 5 roles importantes, Capellio, jefe del los Capuletos, Julieta, hija de Capellio, Romeo, Jefe de los Montescos, Tebaldo, el prometido de Julieta y Lorenzo, consejero de Capellio. A pesar de haber sido tres elencos, todos cantantes de mi agrupación coral, en este post quiero resaltar el trabajo de mis compañeros Yeralmy Piaspam (soprano), Jesús Herrera (tenor), Douglas Romero (bajo), Abraham Ramos (barítono) y por supuesto de Jhoxiris Medina (soprano).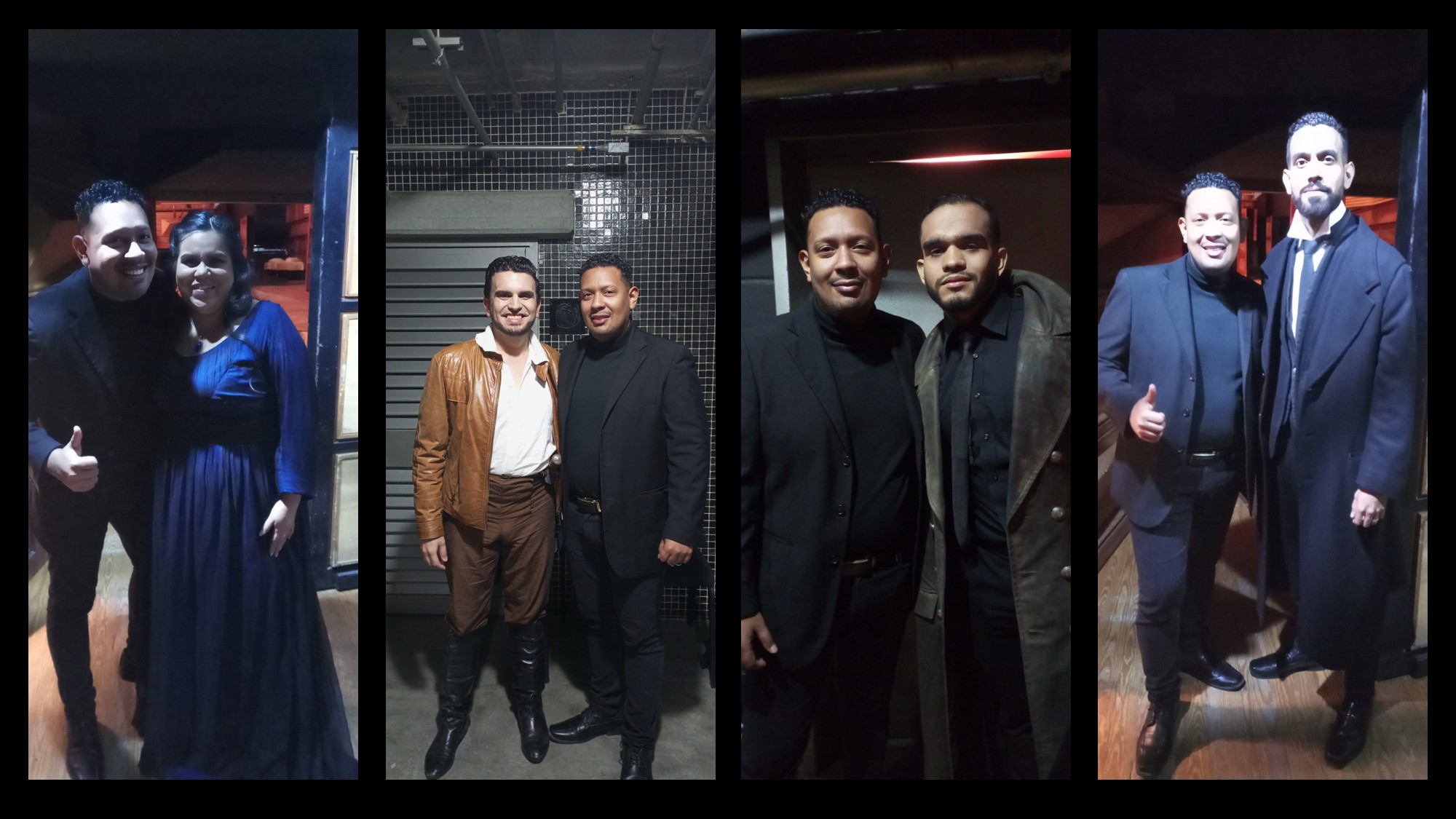 Yeralmy Piaspam (Julieta), Jesús Herrera (Tebaldo), Douglas Romero (Capellio), Abraham Ramos (Lorenzo)

The video and pictures I have shared with you in this post are from the performance we did on Friday, June 24. It was very exciting for me to have been part of this staging. We always learn and grow as artists with all the people and Masters that direct us in these productions. Most of the photos were captured with my Tecno Pova II, but they are a favor I ask backstage from my fellow chorale members. The video excerpts are taken from the recording made by the National Center for Social Action for Music. You can find more audiovisual material of this concert on their official instagram. The photographs I have shared of the scenes are by my colleague Mariana Murillo, she had the opportunity to take these incredible images since the women of the chorale only have a three-minute intervention in this opera, they even have time to sleep until it is their turn to enter the stage 😄
El video y las fotografías que les he compartido en este post son de la función que realizamos el Viernes 24 de Junio. Fue muy emocionante para mí haber sido partícipe de esta puesta en escena. Siempre aprendemos y crecemos como artistas con todas las personas y Maestros que nos dirigen en estos montajes. La mayoría de las fotos fueron capturadas con mi Tecno Pova II, pero son un favor que le pido tras bastidores a mis compañeros de la coral. Los extractos del video los he tomado de la grabación que hizo el Centro Nacional de Acción Social por la Música. Pueden encontrar más material audiovisual de este concierto en su instagram oficial. Las fotografías que he compartido de las escenas son de mi compañera Mariana Murillo, ella tuvo la oportunidad de tomar estas increíbles imágenes ya que las mujeres de la coral solo tienen una intervención de tres minutos en esta ópera, tienen tiempo hasta de dormir hasta que les toca entrar a escena 😉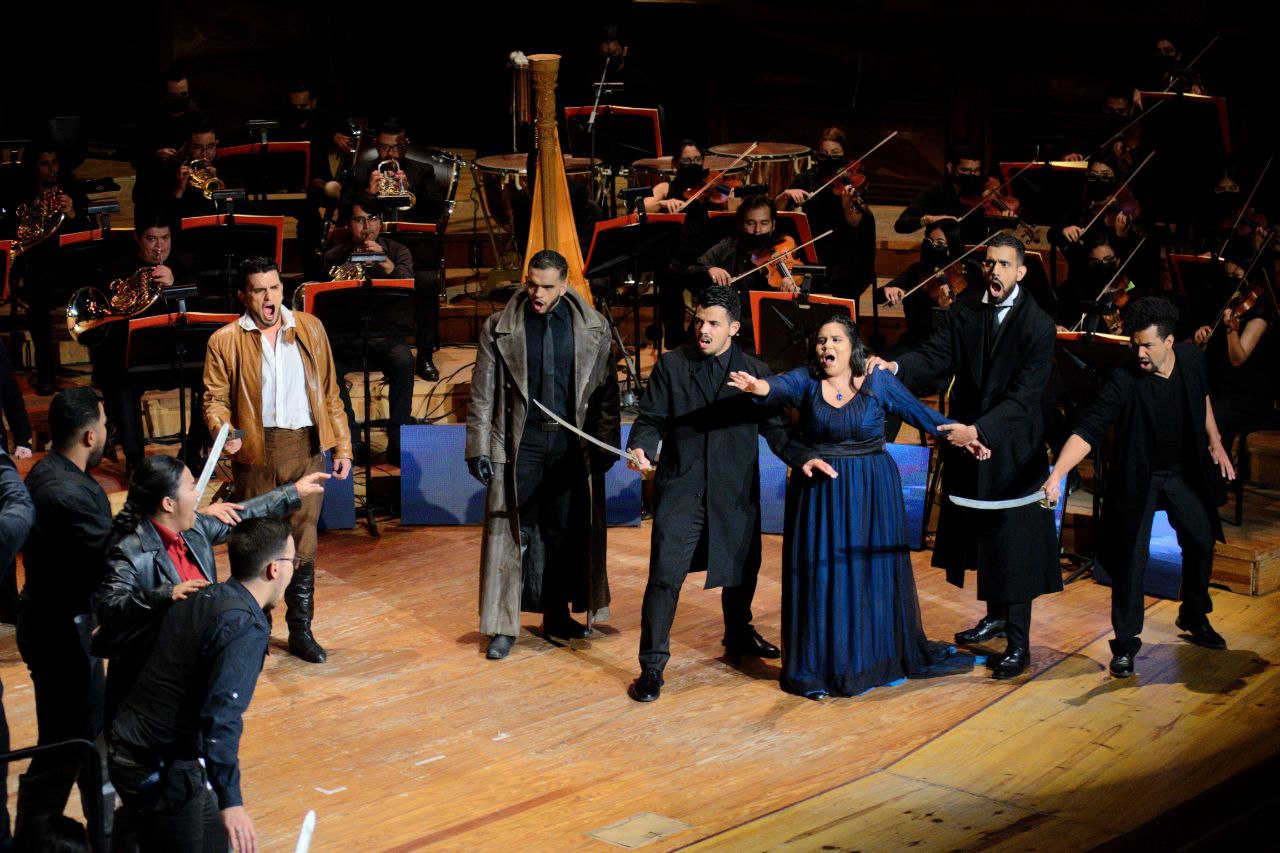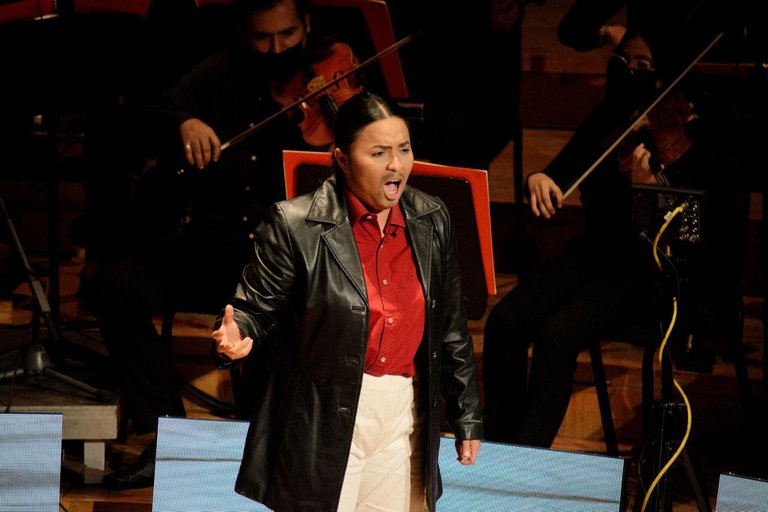 Of course, the controversy was not long in coming from ignorant people. Many people, even from the Venezuelan press criticized several moments of the opera and expressed in social networks that the Sistema de Orquestas performed an ode to lesbianism, precisely for the reason I indicated about Romeo and Juliet. I feel that I admire Jhoxiris more for having played a male role. I was more impressed by the fact that our international guest director Marco Gandini managed to get a white coffin to pull off this production. That was a very shocking moment for me, because after the death of Maestro Abreu, it is the second time we see an urn in our house, the Simón Bolívar Hall. At the end of the video you can see part of this scene.
Por supuesto la polémica no se hizo esperar de parte de personas ignorantes. Mucha gente, incluso de la prensa venezolana criticó varios momentos de la ópera y expresaron en redes sociales que el Sistema de Orquestas realizó una oda al lesbianismo, precisamente por el motivo que les indiqué sobre Romeo y Julieta. Yo siento que admiro más a Jhoxiris por haber representado un papel masculino. A mí me causó más impacto que nuestro director invitado internacional Marco Gandini haya logrado conseguir una ataúd blanco para sacar adelante esta producción. Ese sí fue un momento muy impactante para mí, ya que después de la muerte del Maestro Abreu, es la segunda vez que vemos una urna en nuestra casa, la Sala Simón Bolívar. Al final del video pueden visualizar parte de esta escena que les menciono.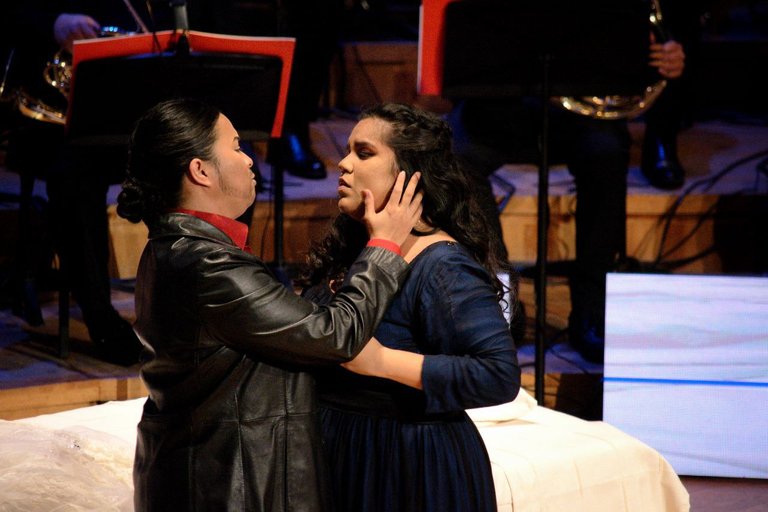 Well, I hope you enjoyed this post. I'm very happy because I hadn't shared a post like this for a long time, but I was very excited about this setup. Some of my closest friends from Hive knew that I was doing this work and at the same time Jhoxiris and I battled with the Covid until a few days before the shows. Another reason to admire her, especially her who was the protagonist and the illness did not prevent her from showing off as an artist. This post was necessary. Thank you very much for reading it...
Bueno, espero hayan disfrutado de esta publicación. Estoy muy feliz porque tenía tiempo sin compartir un post como este, pero me emoción mucho este montaje. Parte de mis amigos más íntimos de Hive sabían que me encontraba realizando este trabajo y al mismo tiempo Jhoxiris y yo batallamos con el Covid hasta unos días antes de las funciones. Otro motivo para admirarla sobretodo a ella que fue protagonista y la enfermedad no impidió que se luciera como artista. Este post era necesario. Muchas gracias por leerme...
Estas últimas fotografías las tomé en el ensayo general. Tuve que sentarme en las butacas porque el covid me tenía mal...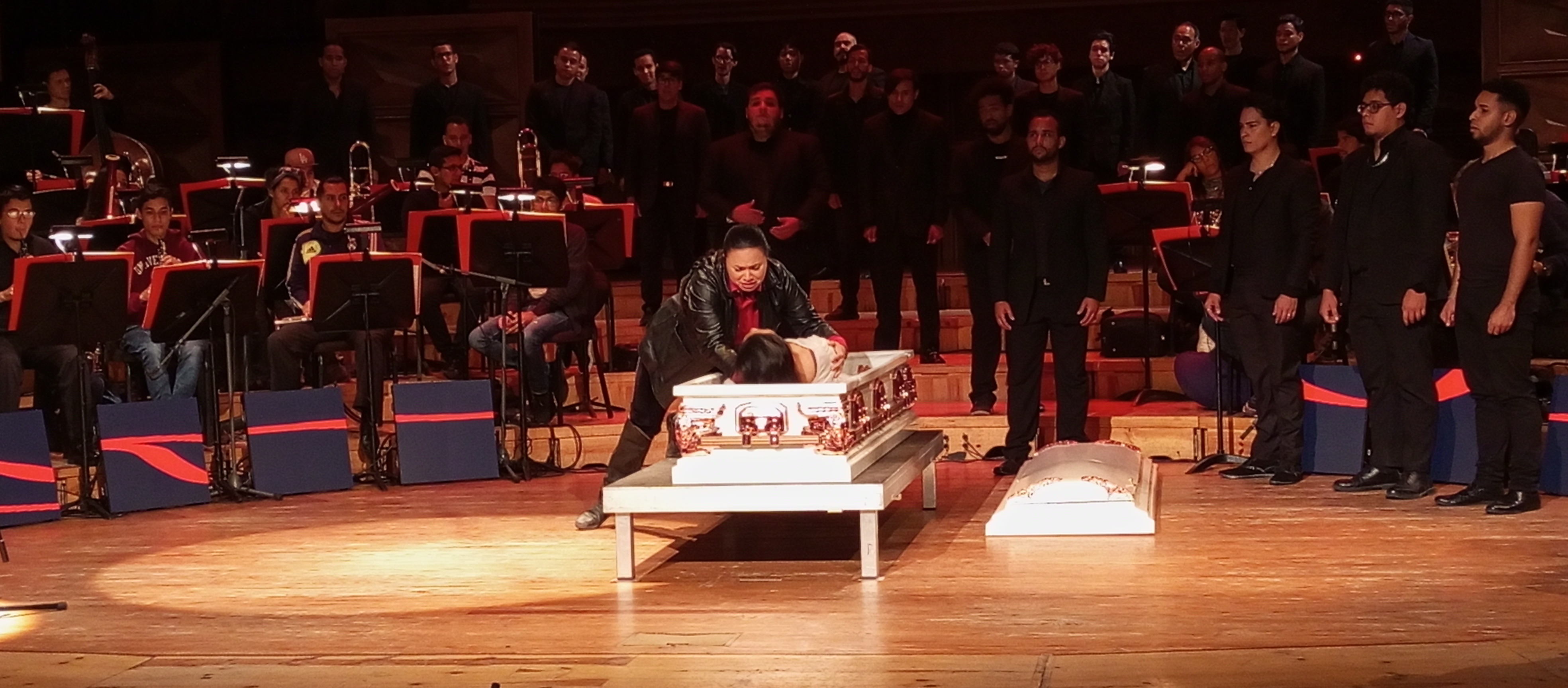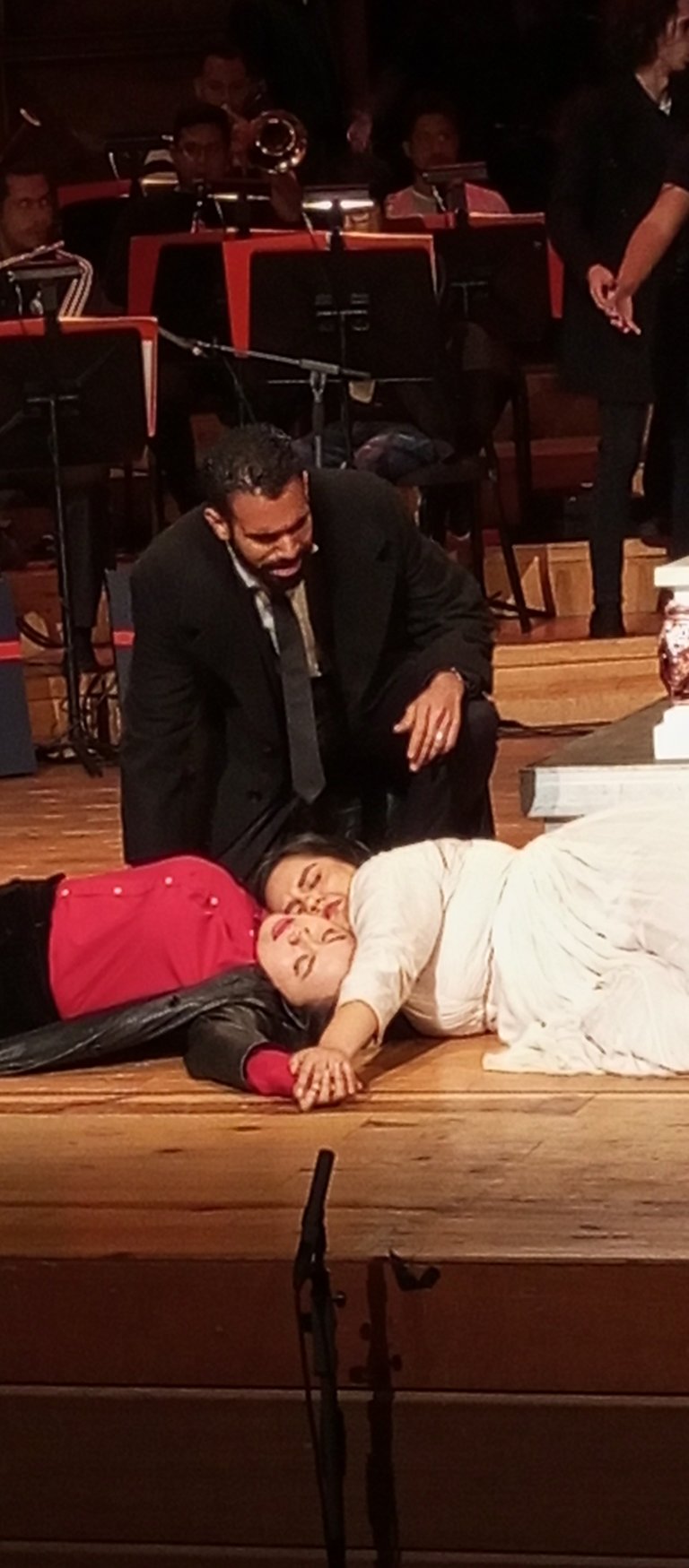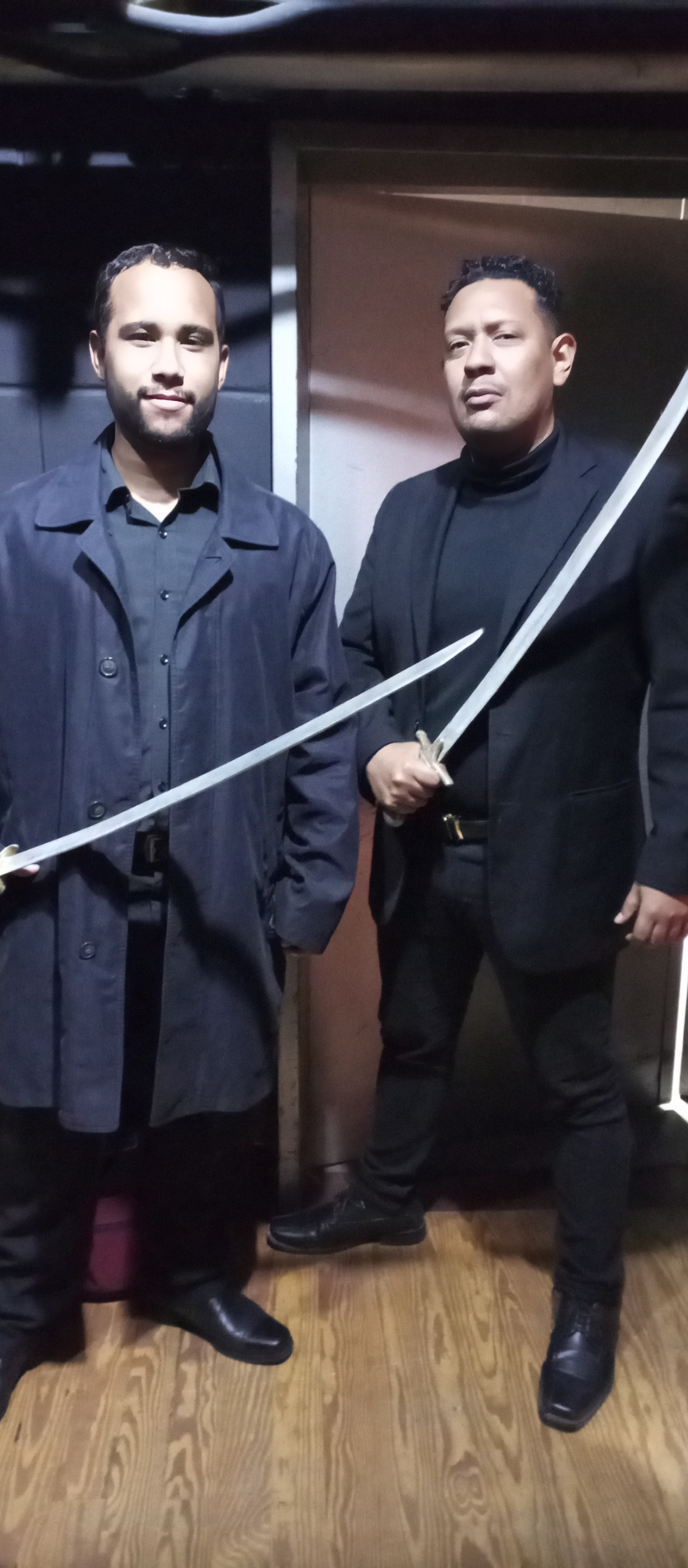 No olvidaré mi espada 😅





---
▶️ 3Speak