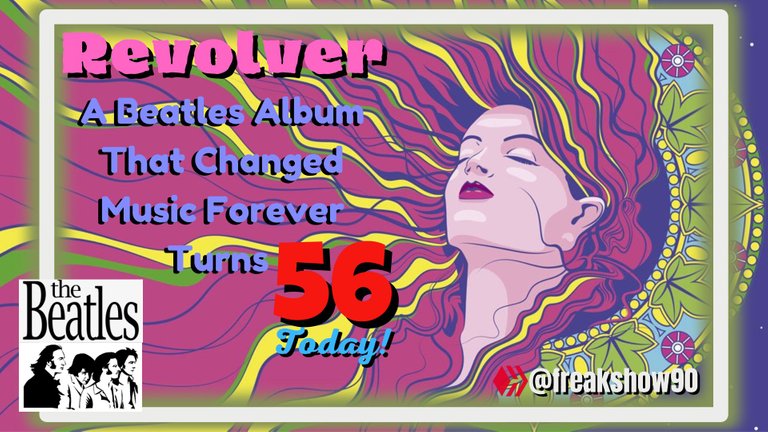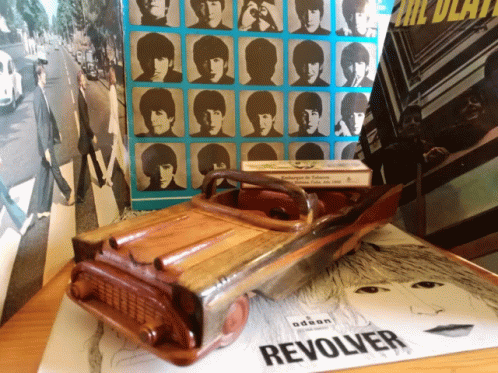 The Beatles during the 1960s not only enjoyed the spotlight in terms of fame and publicity. But they also grabbed the attention of the entire rock and roll scene in terms of the greatness of a style that was quite resisted. Let's remember that what we now recognise and call "Beatlemania" is nothing more than an adaptation by an English band of what Elvis had done in the United States. By this, I do not mean to say that what the Fab Four did had no merit or worth. On the contrary, what I want to exemplify is that the world of pop and rock came from imitating each other; no matter where they came from... What The Beatles were complete geniuses at, however, was fusion. Much of this can be seen in "Revolver", which on a day like today (05/22/08) we can remember and from which this review arises, which has no other intention than to do justice to the unrepeatable greatness of the past.
The Beatles durante los años 60's no solo gozaron de todos los reflectores en cuanto a fama y publicidad. Sino que acapararon la atención entera del rock and roll en cuanto a la grandeza de un estilo que era bastante resistido. Recordemos, que lo que hoy reconocemos y llamamos "Beatlemanía" no es más que una adaptación por una banda inglesa de lo que Elvis había hecho en los Estados Unidos. Con esto, no quiero decir que lo que hicieron los Fab Four, no tenía mérito alguno o valía. Al contrario, lo que quiero ejemplificar es que el mundo del pop y del rock venían de imitarse unos a otros; ya sin importar de dónde provenga... Sin embargo, en lo que The Beatles fueron unos completos genios, fue en la fusión. Mucho de ello lo vemos en "Revolver", que un día como hoy (05/22/08) podemos rememorar y de dónde surge esta review que no tiene otra intención que no sea brindar justicia ante la grandeza irrepetible del pasado.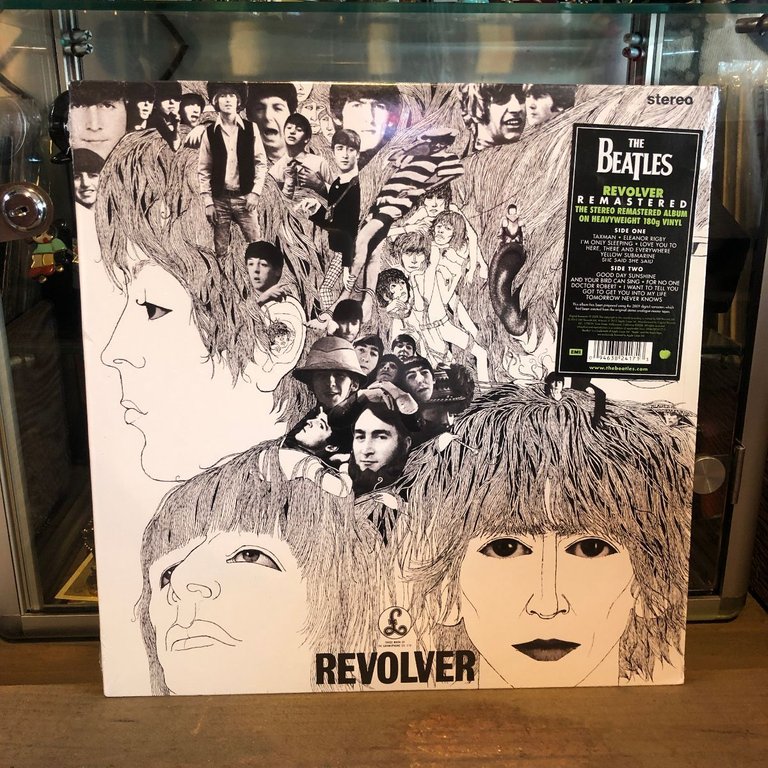 Everybody tends to love and respect the psychedelia provided by Pink Floyd, Creedence Clearwater Revival, Cream, Genesis and many, many other bands but many people forget that it all started (not being the first ones. We have examples with Yardbirds or The Kinks doing similar things) really with this album - the taste for experimentation, undoubtedly we owe it to these guys. But to be fundamentally fair, to George Harrison. A guy who was always ahead of his time. Someone who had no problem fusing the pop that the Liverpool boys were doing with traditional Indian music, and experimentation in that culture. On this album we have songs like "I'm Only Sleeping", "She Said She Said", "Love You To" and "Eleanor Rigby", which are not only incredible, but classics. An album that is innovative from every point of view and for the band's seventh release, it did not disappoint.
Moreover, as a band, The Beatles were already moving away from the image of the "good and cute" guys, but rather they were starting to build the myth that they are today all over the world. And I correct myself, more than a "myth" they are a milestone in themselves in every sense of the word in music. But I won't waste time on demonstrating why they are so spectacular and unique. I will focus on reviewing an album that has perhaps a musical breadth that is as little known as it is magical. An iconic song like "Yellow Submarine" is immersed in this realisation. Sung by Ringo Starr and accompanied by his bandmates on backing vocals, it is just one of the few songs he was able to perform within the band.
Todos suelen amar y respetar la psicodelia brindada por Pink Floyd, Creedence Clearwater Revival, Cream, Genesis y otras muchísimas bandas pero muchas personas olvidan que todo empezó (no siendo los primeros. Tenemos ejemplos con Yardbirds o The Kinks haciendo cosas similares) realmente con este álbum- El gusto por la experimentación, indudablemente se lo debemos a estos chicos. Pero para ser fundamentalmente justos, a George Harrison. Un tipo que siempre fue un adelantado a su tiempo. Alguien que no tenía problema en fusionar el pop que venían haciendo los chicos de Liverpool con la música tradicional de la India, y la experimentación en esa cultura. En este disco tenemos temas como "I'm Only Sleeping", "She said She said", "Love You To" u "Eleanor Rigby", que no solo es que son increíbles, sino clásicos. Un álbum que es innovador desde todo punto de vista y que para ser el séptimo lanzamiento de la banda, no defraudó.
Además, como banda, ya The Beatles venían desapegándose de esa imagen de chicos "buenas y lindos", sino más bien empezaban a construir el mito que hoy son en todo el mundo. Y me corrijo a mí mismo, más que un "mito" son un hito en sí mismo en todo sentido en la música. Pero no voy a perder tiempo en demostrar por qué son tan espectaculares y únicos. Me centraré en la reseña de un disco que tiene quizá una amplitud musical tan poco conocida como mágica. Una canción icónica como "Yellow Submarine" está inmersa en esta realización. Cantada por Ringo Starr y acompañada por sus compañeros en los coros, es tan solo una de las pocas canciones que él pudo interpretar dentro de la banda.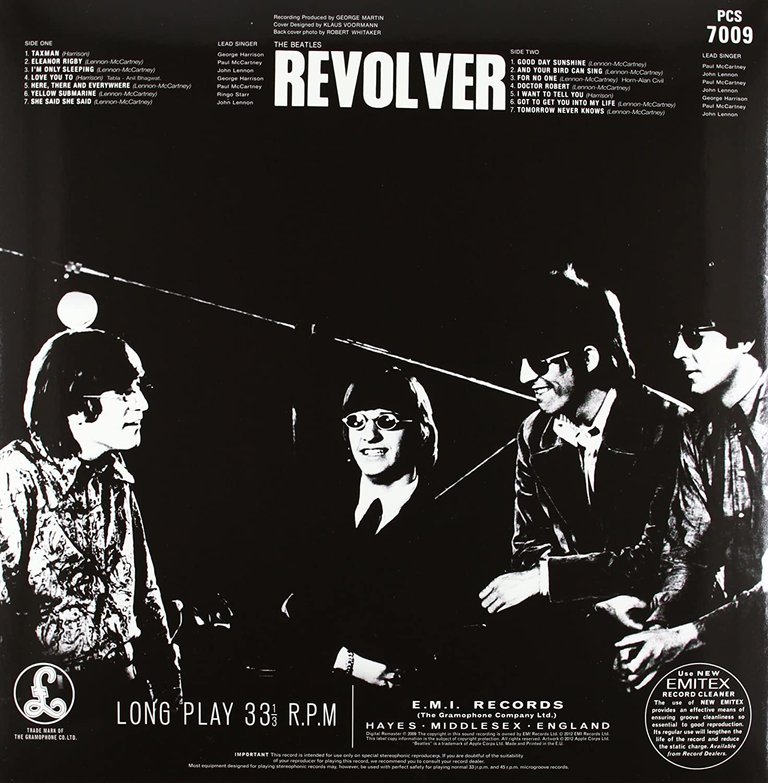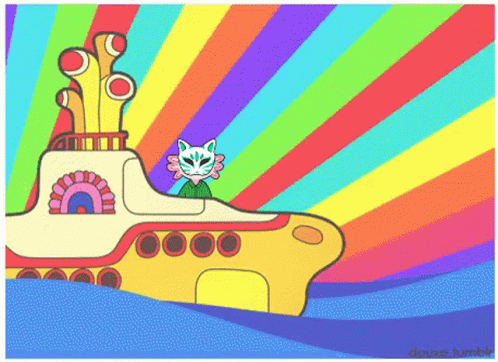 In this sense, "For No One", perhaps one of the most introspective songs ever written and sung by Paul McCartney, (also one of my favourite Beatles songs) is on the "B" side of the album, where we can see the more artistic side of the band and where the fusion doesn't stop. While it doesn't have the inspirational force of India or the powerful touch of a psychedelic album like Pink Floyd's "Dark Side Of The Moon", we continue to appreciate the creative magic of Lennon/McCartney that they had been demonstrating since Rubber Soul, just a year earlier (1965). This is an album full of too many nuances to describe. Where the beauty lies in the subjectivity of the listener and above all in the sensitivity one possesses.
En este sentido, "For No One", quizá una de las canciones más introspectivas jamás escritas y cantadas por Paul McCartney, (además, una de mis canciones favoritas de The Beatles) la hallaremos en el lado "B" del disco, donde podremos ver el aspecto más artístico de la banda y donde la fusión no para. Si bien, no tiene la fuerza inspiradora de la India ni el toque poderoso que tienen disco psicodélico como "Dark Side Of The Moon" de Pink Floyd, no menos cierto es que continuamos apreciando la magia creativa de Lennon/McCartney que venían demostrando desde el Rubber Soul, tan solo uno año antes. (1965) Este es un disco lleno de demasiados matices para poder describir. Donde la belleza se halla en la subjetividad del oyente y sobre todo en la sensibilidad que se posea.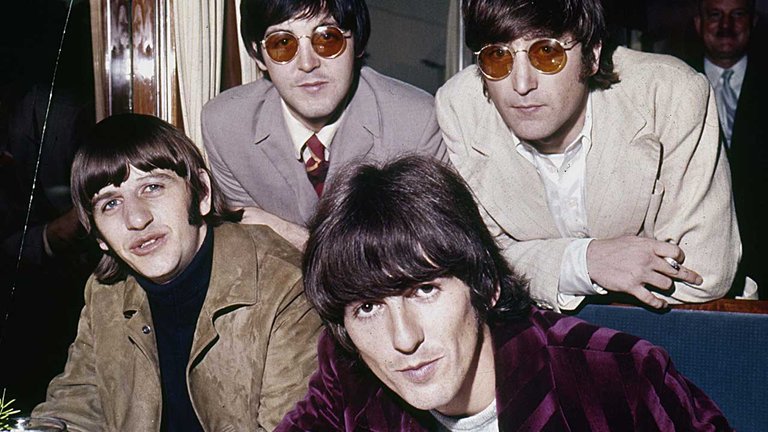 It would be too simple to say that every single album released by the Beatles is a work of art.... For some that may be so, but I am convinced that for others it is not. The truth is that "Revolver", as an album, does not disappoint anyone. What's more, it has a power that is very much marked by George Harrison and Paul McCartney. They knew very well the importance of combining what they knew (rock and roll, British pop and their blues influences) with the experimental and folk music of the Indian subcontinent, whose culture and philosophy of life Harrison was a follower of. Something that could not go unnoticed, because it would be undeniably noticeable on future albums.
The band's reinvention can be appreciated in songs like "Tomorrow Never Knows", where the characteristic sound of this stage of The Beatles is undeniable, thanks to the Indian influences. Combined with John Lennon's melodious voice that accompanies the guitar riff and the sitar, which never cease throughout the song. Something that, like no other band, the boys from Liverpool did better than anyone else. And this is not a minor aspect. Because it is always easier to evaluate a posteriori who has made the best record in a certain style. Or as it happens with the fundamentalists (music purists) who only stick with who patented a certain style, and not with who (who) brought it to a creative peak that then worked as an inspiration for others.
Sería demasiado simple decir que todos y cada uno de los álbumes publicados por los Beatles son una obra de arte... Para algunos puede ser así, pero estoy convencido de que para otros no lo es. Lo cierto es que "Revolver", como álbum, no decepciona a nadie. Es más, tiene una potencia muy marcada por George Harrison y Paul McCartney. Sujetos que sabían muy bien la importancia de combinar lo que conocían (el rock and roll, el pop británico y sus influencias del blues) con la música experimental y folclórica del subcontinente indio, de cuya cultura y filosofía de vida era seguidor Harrison. Algo que no puede pasar desapercibido, porque se notaría de forma innegable en los futuros álbumes.
La reinvención de la banda se puede apreciar en canciones como "Tomorrow Never Knows", donde es innegable el sonido característico de esta etapa de The Beatles, gracias a las influencias indias. Combinado con la melodiosa voz de John Lennon que acompaña el riff de guitarra y el sitar, que no cesan a lo largo de la canción. Algo que, como ninguna otra banda, los chicos de Liverpool hicieron mejor que nadie. Y esto no es un aspecto menor. Porque siempre es más fácil evaluar a posteriori quién ha hecho el mejor disco de un determinado estilo. O como ocurre con los fundamentalistas (puristas de la música) que sólo se quedan con quién patentó un determinado estilo, y no con quién (quiénes) lo llevaron a una cima creativa que luego funcionó como inspiración para otros.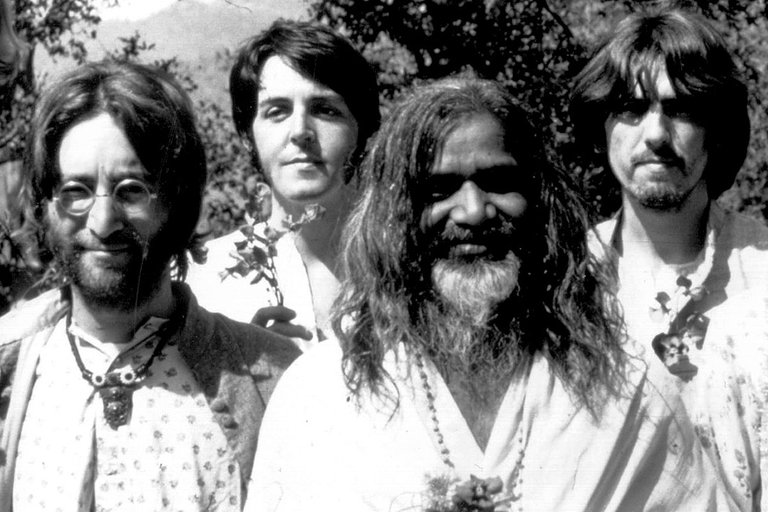 Many of the sounds that today we tend to attribute as "modern" or "current", come from this era. I can't say precisely that they are from the Beatles' "Revolver", but I am absolutely certain that some of the inspiration must have come from here. Melodic, fusion, psychedelic, or even electronic music records (Daft Punk, Prodigy, Bjork) among others, have much of what made them famous and prominent, from this particular record (and style). 56 years is said, particularly simple, if seen as ephemeral. But it clearly isn't. Have you ever wondered why this band arouses so much craze, admiration and followers around the world, if it only lasted 10 years? Well, part of the answer lies in albums like "Revolver".
Muchos de los sonidos que hoy solemos atribuir como "modernos" o "actuales", provienen de esta época. No puedo decir con precisión que sean del "Revolver" de los Beatles, pero estoy absolutamente seguro de que parte de la inspiración debe venir de aquí. Los discos de música melódica, de fusión, psicodélicos, o incluso de música electrónica (Daft Punk, Prodigy, Bjork) entre otros, tienen mucho de lo que les hizo famosos y destacados, de este disco (y estilo) en particular. 56 años se dice, particularmente simple, si se ve como efímero. Pero está claro que no lo es. ¿Te has preguntado alguna vez por qué esta banda despierta tanta locura, admiración y seguidores en todo el mundo, si sólo duró 10 años? Bueno, parte de la respuesta está en álbumes como "Revolver".
On the other hand, another explanation would be that the genius they had as a band was as good as it was when they were together, as opposed to when they weren't together. That would explain why they were so admirable and unquestionable while they were a band, and not so overwhelmingly so when they were solo or in their projects outside The Beatles. The truth is, this is 2022, and I dare you to listen to The Beatles' "Revolver" in its entirety, and I assure you it will not go unnoticed. Like me, the writer of these lines, I wasn't born 70 years ago, nor do I have a list of close relatives or conditioning factors that lead me to think they are incredible. I have seen for myself, and believe me when I tell you that no time is wasted listening to George, John, Paul and Ringo. Even less so in this masterpiece that is "Revolver", which is no less than 56 years old.
Por otro lado, otra explicación sería que el genio que tenían como banda era tan bueno como cuando estaban juntos, en contraposición a cuando no lo estaban. Eso explicaría por qué eran tan admirables e indiscutibles mientras eran una banda, y no tan abrumadoramente cuando estaban en solitario o en sus proyectos fuera de The Beatles. La verdad es que esto es 2022, y te reto a que escuches el "Revolver" de The Beatles al completo, y te aseguro que no te pasará desapercibido. Como yo, el que escribe estas líneas, no he nacido hace 70 años, ni tengo una lista de familiares cercanos o condicionantes que me lleven a pensar que son increíbles. Lo he comprobado por mí mismo, y créanme cuando les digo que no se pierde el tiempo al escuchar a George, John, Paul y Ringo. Menos aún en esta obra maestra que es "Revolver", de la que se cumplen nada menos que 56 años.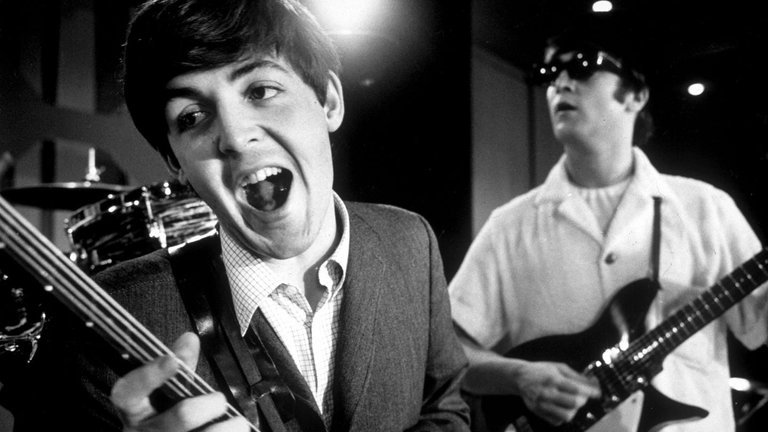 All GIFs used on this post are available in PeakD Platform