---
Saludos a mis grandes amigos del PUKUMUNDO, soy Josué y esta es mi entrada.
Esta semana cantaré un tema de mi época emo, Los malaventurados no lloran. Este tema es de Pxndx y en mi adolescencia fue mi grupo favorito.
Invito a todos a que se unan al Pukuconcurso.
Greetings to my great friends from PUKUMUNDO, I'm Josué and this is my entry.

This week I will sing a song from my emo days, The unlucky ones don't cry. This song is from Pxndx and in my teens it was my favorite group.

I invite everyone to join the Pukucontest.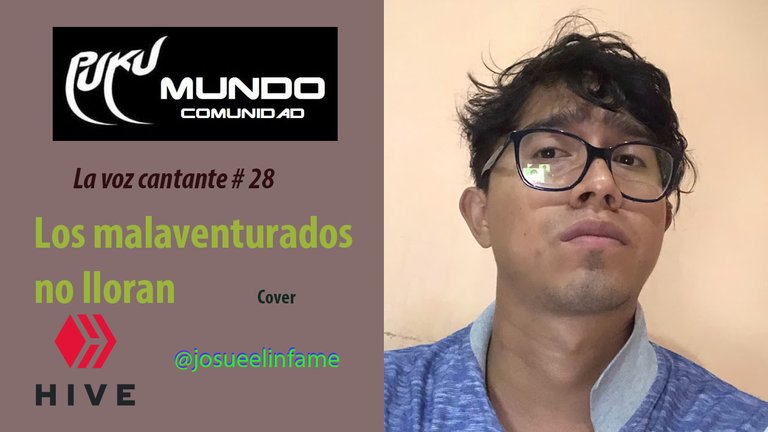 ---
Sé que está en algún lugar mejor
Donde no hay abuso fuera de este mundo
Quiero encontrar el medio para yo
Poder hablar con ella, poder decirle a ella
Que aquí todo esta
Peor que al igual
Que ella mi voluntad
También murió
Le quiero platicar que todo
Sale mal que yo la
Alcanzaría teniendo
Una oportunidad
Sé que ella se siente mejor
Allá no hay suplicio
Sería muy impulsivo
El utilizar el medio
Y llegar a lo desconocido
Sentirla al lado mío
Y decir que todo está peor
Que al igual que ella
Mi esperanza se murió
La quiero abrazar que todo sea igual
Mi vida ya es tan triste que
Nunca mas se marchará
Me vendría bien recordar
Debo yo recordar
Y sentir ser mejor es mejor
No creer en el amor
Así como le hago yo
La debería de odiar
Por dejarme aquí
Pero ella no escogió
Soy un simple amante
Loco yo, he
Aprendido mi lección
Sé que está en algún lugar mejor
Donde no hay abuso fuera de este mundo
Quiero encontrar el medio para yo
Poder hablar con ella, poder decirle a ella
Que aquí
Todo está peor
Que al igual que ella
Mi voluntad también murió
Le quiero saludar
A su oído suspirar
Que mientras yo la extraño, mi vida desvanece mas
Video Original


---
▶️ 3Speak