---
DANCE COVER - BOOMBAYAH / BLACKPINK by D-rock - INSPIRACIÓN
Hola amigos de hive! Está coreografía me pone muy contento de bailarla, ya que de verdad sus pasos demuestran una gran cantidad de energía y dinamismo a la hora de presentarla... Está coreografía, me trae muchos recuerdos del 2018, cuando empecé a conocer a este increíble grupo de chicas.. De verdad fue un momento traumático para mí y necesitaba despejar mi mente, para así poder encontrar el amor de mi vida qué es el baile y mi vocación para siempre.. La verdad es que la primera vez que me la aprendí, fue un poco complicada, veía la coreografía imposible, no sabía cómo ellas podían lograr hacer esos pasos tan marcados y con excelentes movimientos.. pero de verdad poco a poco fui aprendiendo y conociendo más de las coreografías de este grupo, que de verdad me han gustado mucho, ya que le ponen mucho sabor y pasión a lo que hacen.. Ellas son mi inspiración desde ese año, hasta la actualidad, ya que me ayudaron mucho a descubrir quién soy y poder enfocarme en algo que no creía que iba a ser mi sueño.. pero les agradezco mucho a ellas y espero algún día poder conocerlas, jamás dejaré de esforzarme y dar todo de mí con buena calidad y amor por lo que hago, para sí llegar a cumplir mis metas de ser un gran bailarín y una excelente persona.
Hello hive friends! This choreography makes me very happy to dance it, as it's steps really show a lot of energy and dynamism when it's presented.... This choreography, brings me a lot of memories from 2018, when I started to meet this amazing group of girls.... It really was a traumatic moment for me and I needed to clear my mind, so I could find the love of my life which is dancing and my vocation forever..... The truth is that the first time I learned it, it was a little complicated, I saw the choreography impossible, I did not know how they could achieve those steps so marked and with excellent movements .. but really little by little I was learning and knowing more of the choreography of this group, which I really liked a lot, because they put a lot of flavor and passion to what they do ... They are my inspiration since that year, until today, as they helped me a lot to discover who I am and to focus on something that I did not think it would be my dream .. but I am very grateful to them and I hope someday to meet them, I will never stop striving and give all of me with good quality and love for what I do, to get to meet my goals of being a great dancer and an excellent person.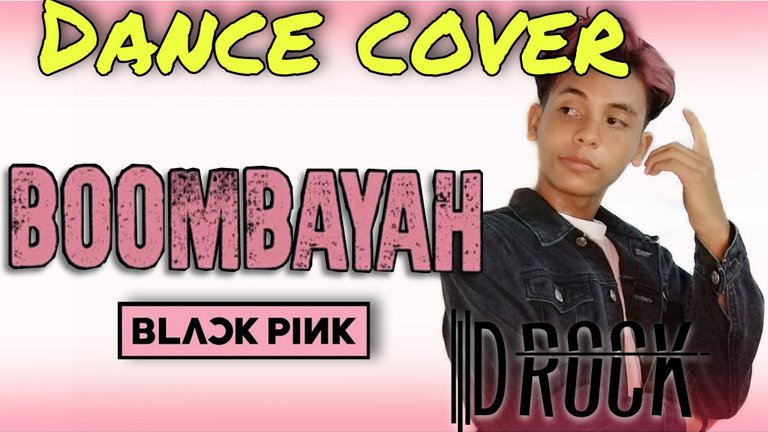 ---
BOOMBAYAH, es un sencillo del grupo surcoreano Blackpink. Fue lanzado como un sencillo digital, titulado Square One, junto con «Whistle» el 8 de agosto de 2016 por YG Entertainment y distribuido por KT Music. «Boombayah» encabezó la lista Billboard World Digital Songs en la primera semana de ventas. Al 4 de febrero de 2019, «Boombayah» había acumulado cuatrocientas ochenta y ocho millones de visitas, mientras que «Whistle» tiene trescientas dieciséis mil millones de visitas. Todas las actuaciones en directo de Blackpink tienen cada uno más de un millón de vistas, siendo la más alta su debut para «Boombayah» en Inkigayo de SBS con más de diez millones de visitas. «Boombayah» también se convirtió en el vídeo debut musical más rápido en lograr cincuenta millones de visitas en YouTube de cualquier acto de K-pop, con nueve semanas después del lanzamiento.
BOOMBAYAH, is a single by South Korean group Blackpink. It was released as a digital single, titled Square One, along with "Whistle" on August 8, 2016 by YG Entertainment and distributed by KT Music. "Boombayah" topped the Billboard World Digital Songs chart in the first week of sales. As of February 4, 2019, "Boombayah" had accumulated four hundred and eighty-eight million views, while "Whistle" has three hundred and sixteen billion views. All of Blackpink's live performances each have over one million views, with the highest being their debut for "Boombayah" on SBS's Inkigayo with over ten million views. "Boombayah" also became the fastest debut music video to achieve fifty million views on YouTube of any K-pop act, with nine weeks after release.
---
Coreografia original :

---

---
Las fotos son de mi autoría y son editadas por picsart.
The photos are of my authorship and are edited by picsart.
---
▶️ 3Speak