---
POLARIS - Dance Cover/ BLACKPINK (Shut Down) - INSPIRACIÓN
Hola amigos de hive! nuevamente les traigo un vídeo junto a mi grupo de baile y estamos muy emocionados de presentarles una nueva coreografía pero esta vez innovando un poco, la canción que bailaremos es de una de las bandas de kpop mas conocidas mundialmente y personalmente mi favorita, su nombre es Blackpink.
Blackpink es un grupo musical femenino surcoreano formado por YG Entertainment. Está formado por cuatro miembros: Jisoo, Jennie, Rosé y Lisa. Blackpink es el primer grupo femenino de K-pop en encabezar la lista Billboard Hot 100 con su single "Ice Cream", canción realizada en colaboración con Selena Gomez, en el puesto 13, y en la lista Billboard 200, en el segundo puesto con su primer álbum de larga duración The Album. Son el primer y único grupo femenino de K-Pop en entrar y encabezar las listas de artistas emergentes de Billboard. También son el primer grupo femenino de K-pop que tiene cuatro canciones en la lista World Digital Song Sales. Al mismo tiempo, "Ddu-Du Ddu-Du", tras su lanzamiento, batió el récord de vídeo musical coreano más visto en YouTube en las primeras 24 horas.
Fuente
Hello friends of hive! again I bring you a video with my dance group and we are very excited to present a new choreography but this time innovating a little, the song we will dance is one of the best known kpop bands worldwide and personally my favorite, his name is Blackpink.
Blackpink is a South Korean female music group formed by YG Entertainment. It consists of four members: Jisoo, Jennie, Rosé and Lisa. Blackpink is the first K-pop female group to top the Billboard Hot 100 with their single "Ice Cream", a collaboration song with Selena Gomez, at number 13, and the Billboard 200 at number two with their first full-length album The Album. They are the first and only K-Pop female group to enter and top Billboard's emerging artist charts. They are also the first K-pop female group to have four songs on the World Digital Song Sales chart. At the same time, "Ddu-Du Ddu-Du", upon its release, broke the record for the most watched Korean music video on YouTube in the first 24 hours.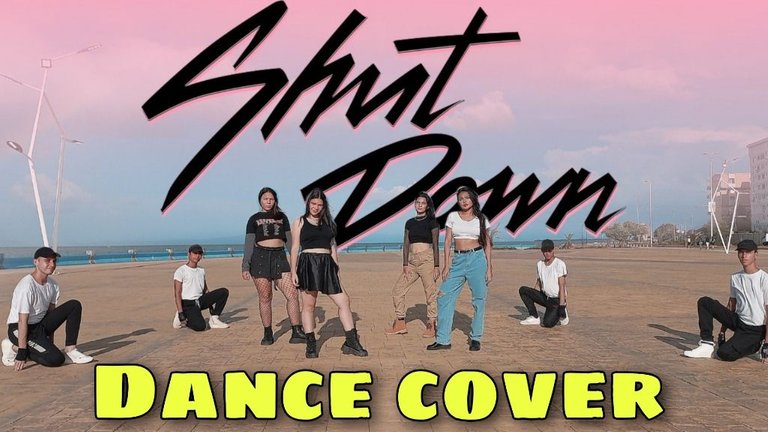 ---
Poder presentarles otro baile con mi grupo es algo que me emociona bastante y mas cuando es una cancion de uno de mis grupos de favoritos de chicas del kpop en la vida, esta vez quisimos hacer algo diferente, ya que en la oportunidad pasada, le tocaron los personajes principales a los chicos en esta ocasion, tendrían la oportunidad las chicas del grupo de demostrar el poder femenino que nos representa y nos mantienen en alto siempre.
Fue una aventura bastante emocionante debo de decir, ya que inicialmente quisimos bailar esta coreografía, gracias a que la empresa que esta a cargo de esta agrupación de chicas, estaba realizando un concurso internacionalmente para ver quien podría hacer el mejor Dance cover en el planeta, pues nosotros no podíamos dejar de intentar y por eso participamos, fue una experiencia bastante divertida y a la vez estresante, ya que tuvimos que ensayar bastante rápido, porque el concurso tenia una fecha limite para enviar el video, nos esforzamos y dimos todo de nosotros para hacer una gran interpretación y no quedarnos atrás, para dar la talla y colocar nuestra ciudad en alto, si llegabamos a ganar... a pesar de que no pudimos lograrlo, igual fue otro momento en nuestras vidas que jamas olvidaremos, ya que nuestras metas son crecer como grupo, y orgullosamente lo estamos haciendo poco a poco, pero lo que siempre tendré en claro es que todo lo que queramos podremos alcanzarlo y no nos rendiremos tan fácilmente.
To be able to present another dance with my group is something that excites me a lot and more when it is a song of one of my favorite kpop girl groups in life, this time we wanted to do something different, since in the last opportunity, the main characters played the boys, this time, the girls of the group would have the opportunity to demonstrate the feminine power that represents us and always keep us high.
It was quite an exciting adventure I must say, because initially we wanted to dance this choreography, thanks to the company that is in charge of this group of girls, was conducting a contest internationally to see who could make the best Dance cover on the planet, we could not stop trying and so we participated, It was quite a fun experience and at the same time stressful, because we had to rehearse pretty fast, because the contest had a deadline to send the video, we made an effort and gave all of us to make a great performance and not be left behind, to give the stature and place our city high, if we could win. ... even though we couldn't make it, it was still another moment in our lives that we will never forget, since our goals are to grow as a group, and we are proudly doing it little by little, but what I will always keep in mind is that whatever we want we can achieve it and we will not give up so easily.

---
Nuestro primer ensayo fue muy loco, pero lo hicimos con mucho valor, y a demás nos divertimos bastante, ya que intentamos dar siempre lo mejor de nosotros mismos, ayudarnos y no dejar a nadie por atrás sin aprender nada, eso es lo bueno de estar en un grupo poder ayudarnos a marcar los pasos ya mejorar, se que a veces pueden llegar a ver conflictos, ya nos ha pasado pero como familia siempre intentamos solucionarlo todo para jamas separarnos y que jamas nos afecte lo que pase. Cuando por fin llegamos a sincronizarnos fue algo majestuoso para todos y nos sentimos bastante bien, porque teníamos todo el reconocimiento de que nos esforzamos y que al final todo estaba dando frutos.
Our first rehearsal was very crazy, but we did it with a lot of courage, and we also had a lot of fun, because we always tried to give the best of ourselves, help each other and not leave anyone behind without learning anything, that's the good thing about being in a group to help each other to mark the steps and improve, I know that sometimes you can get to see conflicts, it has happened to us but as a family we always try to solve everything to never separate us and never affect us what happens. When we finally got to synchronize was something majestic for everyone and we felt pretty good, because we had all the recognition that we made an effort and that in the end everything was paying off.

---
Shut Down, es una canción del grupo surcoreano Blackpink. Fue lanzada el 16 de septiembre de 2022 a través de YG Entertainment e Interscope Records, como el sencillo principal de su segundo álbum de estudio surcoreano de larga duración del grupo, titulado Born Pink. fue escrita por Teddy Park, Danny Chung y Vince, compuesta por el propio Teddy junto a 24, este último también a cargo de los arreglos musicales.Tiene una duración de dos minutos y 55 segundos, y fue compuesta en clave de do mayor con un tempo de 110 pulsaciones por minuto en una métrica compuesta.
El sencillo utiliza un sample del tercer movimiento del Concierto para violín n.º 2 de Niccolò Paganini, conocido como "La campanella", a través de la cual maximiza el aura oscura y misteriosa que encarna la canción original, armonizando con ritmos hip-hop clásicos, un rap dinámico y una extraña tensión.
Fuente
Shut Down, is a song by South Korean group Blackpink. It was released on September 16, 2022 through YG Entertainment and Interscope Records, as the lead single from the group's second full-length South Korean studio album, titled Born Pink.It was written by Teddy Park, Danny Chung and Vince, composed by Teddy himself along with 24, the latter also in charge of the musical arrangements.It has a duration of two minutes and 55 seconds, and was composed in the key of C major with a tempo of 110 beats per minute in a compound meter.
The single uses a sample from the third movement of Niccolò Paganini's Violin Concerto No. 2, known as "La campanella", through which he maximizes the dark and mysterious aura embodied in the original song, harmonizing it with classical hip-hop beats, a dynamic rap and a strange tension.
---
Canción original:


---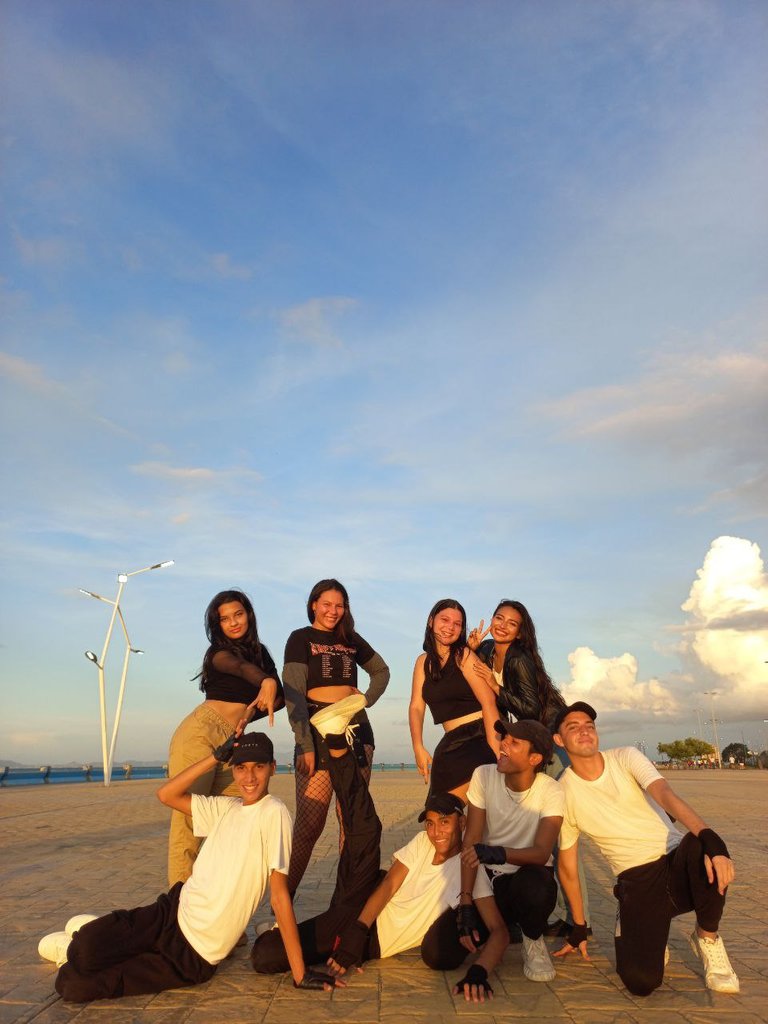 El día de la grabación fue algo mas que emocionante ya que teníamos la experiencia pasada, de no querer grabar en el sol, porque ademas de que nos lastimaba, nos quitaba energía y sentíamos que en el vídeo no se veía tan bien, supimos tener paciencia y decidimos esperar a que el sol bajara un momento, cuando pasó comenzamos a grabar y nos pusimos en acción, fue muy divertido pues el vídeo se grabó en partes, ya que la coreografía y y la canción era así, pero siento que nos quedo asombroso, supimos llevar los movimientos de cámara a otro nivel y por supuesto tener un balance de todo.
Es gratificante tener todos esos sentimientos a la hora de grabar ese día, a pesar de que tuvimos que salir corriendo a tomar el autobús ya que era muy tarde.... esos sentimientos fueron algo increíble y mágico, que admiramos y nos gusta de grabar, espero que a ustedes también les haya gustado como nos quedó el vídeo y lo disfruten, un saludo la famila Polaris <3.
The day of the recording was something more than exciting because we had the past experience of not wanting to record in the sun, because besides that it hurt us, it took away our energy and we felt that the video did not look so good, we knew how to be patient and decided to wait for the sun to go down for a moment, It was a lot of fun because the video was shot in parts, since the choreography and the song was like that, but I feel it was amazing, we knew how to take the camera movements to another level and of course to have a balance of everything.
It is gratifying to have all those feelings when recording that day, even though we had to run out to take the bus because it was very late .... those feelings were something incredible and magical, we admire and we like to record, I hope you also liked how we left the video and enjoy it, greetings Polaris family <3.
---

---
Las fotos son de mi autoría y son editadas por picsart.
The photos are of my authorship and are edited by picsart.
---
▶️ 3Speak