---
Thanks to everyone at #HiveFest for making myself and my family super welcome! We had a fantastic time, learned a lot and made some lovely new friends.
I have some more random pictures and (hopefully) unusual anecdotes from HiveFest to post later but first I wanted to share this video made by my partner (not on Hive yet but you never know!) via @threespeak.
This video shows a small insight into HiveFest and my performance - and a short clip of video of me performing with @atomcollector from @risingstargame too! We will look at whether we can do a version of our collab together to release...
Go go the SPK Network!
Incidentally, since I'm posting this on 3Speak - I enjoyed the talk about the SPK network by @starkerz. As a regular 3Speak user I'm looking forward to the point where other front ends can post video to the SPK network too.
Video hosting and transcoding needs a lot of resources (both in software development terms and in actual computing resources) so it's great that the infrastructure for it is on the way to becoming properly distributed. Great work from the SPK team!
Traveller's Path
The background music to the video by the way is the intro to my track Traveller's Path - I performed an improvised modular version of that track in my HiveFest set to finish things off. You can check out the track in full in all the usual places via https://ffm.to/travellerspath
and there is also another version that is a collaboration with @stickupboys at:
https://ffm.to/travellerspathsub
And of course you can get both versions as NFT Records in @risingstargame!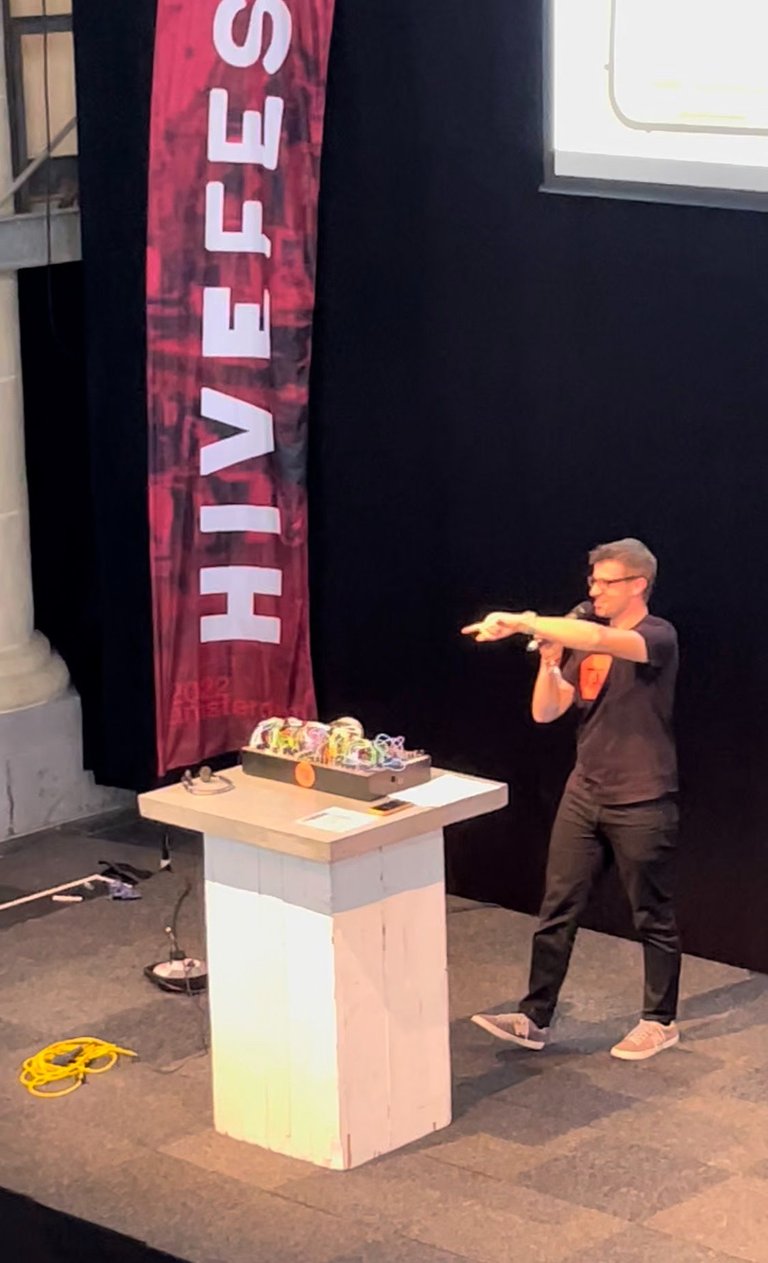 HiveFest Travel
I would like to wish everyone at HiveFest a safe journey home if you didn't already make it back. I heard there were 4 hour long queues for security at the airport and I'm glad I missed those, especially with my 4 year old son!
We got lucky with our Eurostar travel plans and other than cutting it a bit fine and having to run to the gates as they were about to close (our fault - we were enjoying Amsterdam cafe life too much!) we had no problems and made it home last night about 9pm UK time.
And if you didn't make it to HiveFest - I would encourage you to try to come next year! There are some competitions/prizes and reduced prices too for plankton/minnow users. I'll be coming again next year if I can and I'm also very open to other Hive meetups. In fact I am panning to organise a London one so if you are interested let me know and I'll make sure to notify you.
Finally a rest day
Today in the UK it is a 'holiday' day for everyone as it's the Queen's funeral. I'm not a monarchist so it doesn't mean much to me, though I do recognise that it is a day that will be part of history. Nevertheless it does mean a quiet day at home as everything is shut and a rest day is actually pretty welcome. All that talking and learning at HiveFest was pretty tiring!
---
▶️ 3Speak