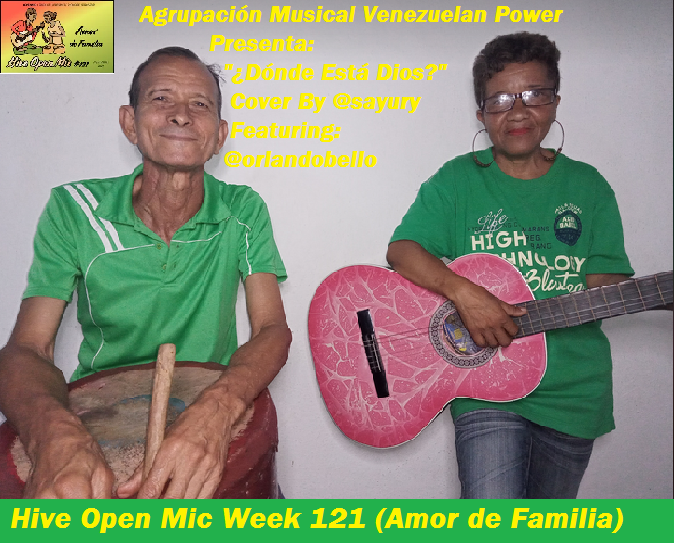 Hola, comunidad, en esta semana 121, nuestra artista destacada
@osmely
propuso que exploráramos musicalmente el tema del amor de familia. Es algo muy hermoso y que tiene muchos matices. Porque está la familia consanguínea, a la que estamos relacionados genéticamente, con la que compartimos costumbres, idioma, cultura... Está esa otra familia a la que no nos unen lazos de sangre por con quienes nos sentimos hermanados por tener afinidad en diversos aspectos... Y cuando miramos a lo alto, cuando rezamos el Padrenuestro y al decir "nuestro" reconocemos que ...tu Papá es mi Papá y, por tanto, somos todos hermanos... el concepto de familia se abre para abrazar a la humanidad entera.

Hello community, in this week 121, our Spotlight Artist @osmely proposed that we explore the theme of family love musically. It is something very beautiful and has many nuances. Because there is the consanguineous family, to which we are genetically related, with whom we share customs, language, culture... There is that other family to which we are not linked by blood ties because with whom we feel brotherhood because we have affinity in various aspects ... And when we look up, when we pray the Lord's Prayer and by saying "our" we recognize that ... your Dad is my Dad and, therefore, we are all brothers... the concept of family opens up to embrace the entire humanity.

Esta canción "¿Dónde Está Dios?" narra la historia de una joven que se encuentra con la fe hacia ese Dios Padre descubriéndole a través de sus obras pero... buscando un contacto más estrecho con Él quiere saber dónde se encuentra, dónde está Dios. Un niño le dará la respuesta. Está canción formó parte del primer cassette grabado en la década de los 70 por el grupo musical Apocalipsis de la Iglesia Evangélica de Las Acacias en Caracas, Venezuela. Ya anteriormente canté un tema de ellos
"La Alegría Que Da el Señor"
y expliqué que no encontré su material en la web. Espero que les guste este canto y su mensaje. También les invito a apoyar a esa hermosa familia musical como lo es la familia Linares, hivers que en este momento están pasando por una delicada situación por el accidente de tránsito que tuvo el padre,
@armandolnrs
, todo "granito de arena" suma, todo "granito de arena" cuenta. Oremos por nuestros hermanos de esta familia de hivers y apoyémosles en la medida de nuestras posibilidades.

This song "Where Is God?" narrates the story of a young woman who finds faith in that God the Father discovering Him through His works but... looking for a closer contact with Him wants to know where He is, where God is. A child will gave her the answer. This song was part of the first cassette recorded in the 70's by the musical group Apocalypse of the Evangelical Church of Las Acacias in Caracas, Venezuela. I previously sang a song by them "The Joy That the Lord Gives" and explained that I couldn't find their stuff on the web. I hope you like this song and its message. I also invite you to support that beautiful musical family such as the Linares family, hivers who are currently going through a delicate situation due to the traffic accident that the father had, [@armandolnrs](https://ecency.com /hive-105786/@jesuslnrs/xggayxzc), every "grain of sand" adds up, every "grain of sand" counts. Pray for our brothers in this family of hivers and support them to the best of our ability.

Una tarde en la `playa mirando ponerse el sol
admirando quedé la grandeza de Dios.
El que creó a los hombres y este mundo les dió
por Sus obras creí en Él pero me pregunté...


//OH, OH, OH, ¿DÓNDE, DÓNDE ESTÁ DIOS?
SÉ QUE TODO LO HA HECHO ÉL, PERO
¿DÓNDE, DÓNDE ESTÁ ÉL? YO NO LO SÉ//


Y comencé a buscar a los hombres que hablaban de él
"Está aquí"
"Está allá"
Miré pero no le vi.
Entonces tristemente a la playa regresé
y vi un niño jugar en la arena y me acerqué:


//OH, OH, OH, ¿DÓNDE, DÓNDE ESTÁ DIOS?
SÉ QUE TODO LO HA HECHO ÉL, PERO
¿DÓNDE, DÓNDE ESTÁ ÉL? YO NO LO SÉ//


El niño, sonriendo, me dijo:
"Yo lo encontré. Vive dentro de mí desde que en Él creí"
Y allí mismo, en la arena, un largo rato lloré
destruyendo mi yo hasa que nació Él


//HOY DIOS VIVE DENTRO DE MÍ,
SE QUE VIVE DENTRO DE MI,
DESDE QUE, COMO EL NIÑO AQUEL
EN ÉL CREÍ//









An afternoon on the beach watching the sun go down
I was admiring the greatness of God.
He who created men and this world gave them
Because of His works I believed in Him but I wondered...


//OH, OH, OH, WHERE, WHERE IS GOD?
I KNOW HE HAS DONE EVERYTHING, BUT
WHERE, WHERE IS HE? I DO NOT KNOW//


And I started looking for the men who talked about Him
"He Is here"
"He is there"
I looked but didn't see Him.
So sadly I returned to the beach
and I saw a child play in the sand and I approached:


//OH, OH, OH, WHERE, WHERE IS GOD?
I KNOW HE HAS DONE EVERYTHING, BUT
WHERE, WHERE IS HE? I DO NOT KNOW//


The boy, smiling, said to me:
"I found Him. He lives inside me since I believed in Him"
And right there, in the sand, I cried for a long time
destroying my self until He was born


// TODAY GOD LIVES WITHIN ME,
I KNOW HE LIVES INSIDE ME,
SINCE, LIKE THAT CHILD
IN HIM I BELIEVED//












Agradezco el apoyo en esta producción musical de mis amigos:

@barbyjr Asesoría de imagen y grabación del video
@carmenrivas Coros
@gabrieljr Apoyo Técnico
@hermaryrc Coros
@orlandobello Percusión







I appreciate the support in this musical production of my friends:

@barbyjr Image advice and video recording
@carmenrivas Choirs
@gabrieljr Technical Support
@hermaryrc Choirs
@orlandobello Percussion

NOTA: Los separadores son propios, elaborados en Paint.
La letra de la canción la tomé de mis recuerdos.
La traducción al inglés la realicé en el traductor Google







NOTE: The separators are my own, made in Paint.
I took the lyrics of the song from my memories.
I made the translation into English in the Google translator









De izquierda a derecha: @hermaryrc, @orlandobello, @carmenrivas, @sayury / From left to right:@hermaryrc, @orlandobello, @carmenrivas, @sayury