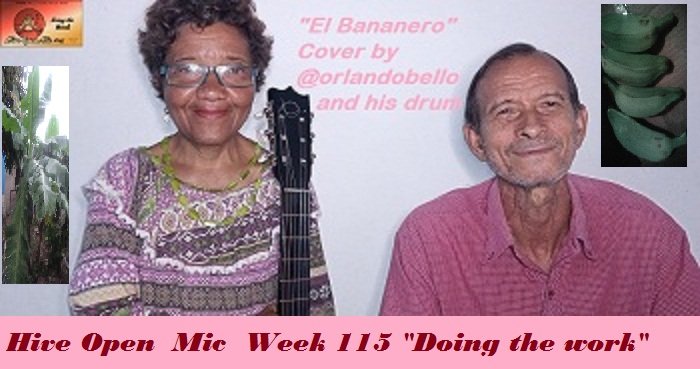 Hola, bella comunidad de intérpretes, creadores y amantes de la música. En armonía con la temática de esta semana que es "Doing the work" Deseo participar con esta canción que habla acerca de un hombre que trabaja vendiendo bananas y que por su manera de expresarse se nota que disfruta de su trabajo. Esta canción, aunque quien habla en ella es un caballero, un vendedor, fue compuesta por una dama: Lidia Handal,maestra de música, escritora y compositora. Lidia nació en San Pedro Sula, Honduras. Aunque la enseñanza primaria la realizó en su país natal, sus estudios secundarios los hizo en Estados Unidos donde se graduó de Secretaria y también de maestra de música. A ella le debemos esta hermosa canción costumbrista "El Bananero" y también la canción "Jamás"
Agradezco el apoyo recibido por mis amigos: @barbyjr quien realizó la grabación, @sayury quien tocó la guitarra, hizo la publicación y fue la voz principal, @hermaryrc, @elioe y @carmenrivas quienes hicieron el coro, @gabrieljr quien prestó su laptop para la publicación.




Hello, beautiful community of performers, creators and music lovers. In harmony with this week's theme, which is "Doing the work," I want to participate with this song that talks about a man who works selling bananas and whose way of expressing himself shows that he enjoys his work. This song, although the one who speaks in it is a gentleman, a seller, was composed by a lady: Lidia Handal, music teacher, writer and composer. Lidia was born in San Pedro Sula, Honduras. Although primary education was carried out in her native country, her secondary studies were done in the United States where she graduated as a Secretary and also as a music teacher. We owe her this beautiful costumbrista song "El Bananero" (The Banana Seller) and also the song "Jamás" (Never)
I appreciate the support received by my friends: @barbyjr who made the recording, @sayury who played the guitar, made the post and was the main voice, @hermaryrc, @elioe and @carmenrivas who did the choir, @gabrieljr who lent his laptop for publication.

Con mi carreta vengo llegando
De allí nomás de Guaruma dos,
Con mi carreta que van tirando
Mis cuatro bueyes confiando en Dios
Con mi carguita vengo llegando
Para vender aquí en la ciudad,
Por eso llego siempre cantando
Mi canto alegre del bananal.

Con mi cargamento pregonando voy
Oro verde porque yo soy bananero,
Con mi cargamento muy contento voy
Y me mira con asombro al forastero.
Bananero, ay, bananero soy
Ya me alejo, y pronto ya me voy.
Y se lleva el viento mi alegre pregón
Y me gritan "Un momento, bananero"
Ya mi verde cargamento se me acaba
Y se llena de dinero mi bolsón.





With my cart I come arriving
From there just from Guaruma two,
With my cart that they are pulling
My four oxen trusting in God
With my little cargo I've been arriving
To sell it here in the city,
That's why I always come singing
My happy song of the banana plantation.
With my cargo proclaiming I go
Green gold because I am a banana seller,
With my cargo I am very happy
And he looks at me in amazement at the stranger.
Banana man, oh, I am a banana man
I'm leaving, and soon I'll be gone.
And the wind takes my happy proclamation
And they yell at me "Wait a minute, banana man"
Now my green cargo is running out
And my bag is filled with money..




Moisés Canelo interpreta una bella versión de esta canción que sabemos ustedes disfrutarán tanto como nosotros.
Moises Canelo performs a beautiful version of this song that we know you will enjoy as much as we do.




NOTA: Las fotos utilizadas en el separador,la foto de inicio y la foto de firma son propias, tomadas con celular Vetelca. El separador fue elaborado en Paint. La letra de la canción la tomamos de nuestra memoria. La traducción fue hecha con el traductor de Googl.