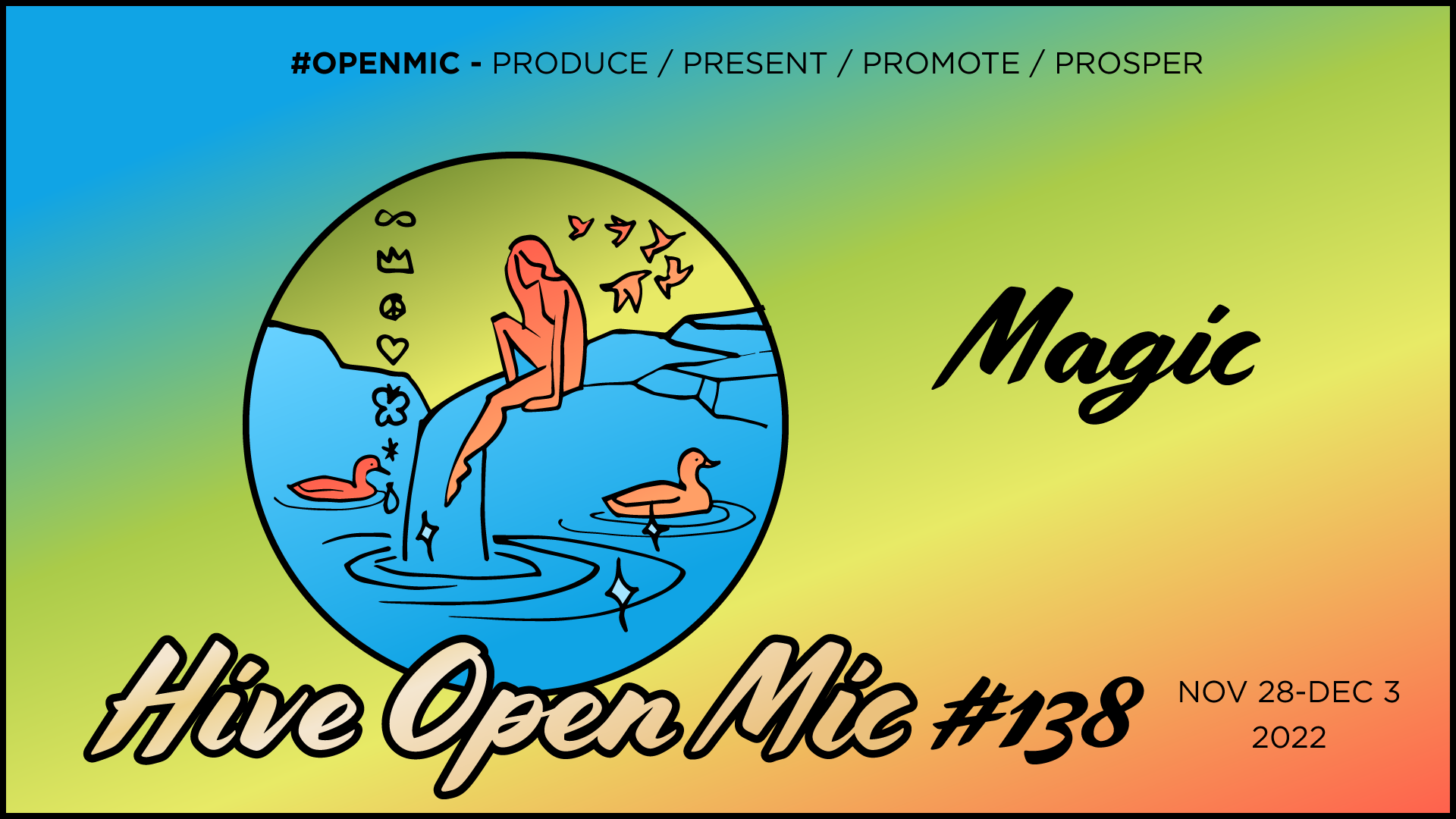 Graphic of promotion this week.
Graphic of promotion this week.
Tu magia.
La semana número 138 que nos acerca a los tiempos decembrinos, tan hermosos y importantes en la vida de los seres humano, y agradecemos a Dios por permitirnos subir un escalón más del progreso de nuestra comunidad @openmic.
Cada emisión semanal trae un tema de inspiración, y en esta oportunidad @zullyscott se ha inclinado por la magia. Es un ritmo de orquídea.
Esta temática me trajo a la memoria a una muchacha que era completaente bella y hermosa, y todo lo que tenía y hacía era lindo, y le asigné a mi canción el título de Tu magia. It is an orchid rhytm
Felicitaciones a los coordinadores que cada 7 días plasman su trabajo exhaustivo en cuanto a apreciar cada presentación de los usuarios. Son ellos el jefe @cabelindsay, @jesuslnrs, @mipiano, @fernanblog y @musicandreview.
TU MAGIA.
En la existencia hay seres
que pese a ser humanos
irradian un espectro
realmente extraordinario.
Y como propio ejemplo
puedo tomar tu caso
por ser una persona
que tiene un toque mágico.
Tu rostro tan bonito
y cuerpo bien formado
te hacen notar inmensa
en aspecto y agrado.
Ángel, gracia y carisma
Dios grandioso te ha dado
para que con tumagia
esté el mundo encantado.
El poema de esta edición esta dedicado a nuestro coordinador @cabelindsay.
Al detallar tu perfil
en ti gran talento hay,
querido Cabelindsay,
que brillas como un candil.
Con tus dibujos tan bellos
hechos de forma sencilla,
llegas a la maravilla
de cromáticos destellos.
Un genial coordinador
de nuestra comunidad
te has convertido en verdad
con la confianza mayor.
Canciones bellas te escucho
durante cada semana,
y con la más grata gana
todos te queremos mucho.
Eres una mano amiga
toda llena de labores,
y pido con mil amores
¡¡¡que Dios siempre te bendiga!
Week number 138 brings us closer to the beautiful and important times in the lives of human beings, and we thank God for allowing us to climb one more step in the progress of our @openmic community.
Each weekly broadcast brings a theme of inspiration, and this time @zullyscott has chosen magic.
This theme brought to my memory a girl who was completely beautiful and lovely, and everything she had and did was beautiful, and I assigned my song the title Your magic.
Congratulations to the coordinators who every 7 days do an exhaustive job in appreciating each presentation of the users. They are: the boss @cabelindsay, @jesuslnrs, @mipiano, @fernanblog and @musicandreview.
YOUR MAGIC.
In existence there are beings
that despite being human
radiate a spectrum
truly extraordinary.
And as my own example
I can take your case
for being a person
who has a magical touch.
Your beautiful face
and well-shaped body
make you immense
in looks and likability.
Angel, grace and charisma
Great God has given you
so that with tumagia
the world is enchanted.
The poem in this issue is dedicated to our coordinator @cabelindsay.
In detailing your profile
in you there is great talent,
dear Cabelindsay,
you shine like a candle.
With your beautiful drawings
made in a simple way,
you reach the wonder
of chromatic sparkles.
A great coordinator
of our community
you have become true
with the greatest confidence.
Beautiful songs I listen to you
every week,
and with the greatest pleasure
we all love you very much.
You are a helping hand
all full of labors,
and I pray with a thousand loves
may God always bless you!
Translated with www.DeepL.com/Translator (free version)