---
Saludos a todos los de esta linda comunidad de HIVE OPEN MIC, casi no alcanzo a cantar esta semana, pero lo logré jeje.
Esta semana habla sobre las emociones y algo con lo que me gusta cantar, desplegar sentimientos y transmitirlos mediante la voz.
Hoy canto un tema de un grupo ecuatoriano llamado Tranzas, la canción se llama "Morí". Habla sobre la tristeza de perder al amor.
Los invito a unirse a esta competencia.
---
Greetings to all of this beautiful community of HIVE OPEN MIC, I almost didn't get to sing this week, but I did hehe.

This week he talks about emotions and something I like to sing with, unfold feelings and transmit them through my voice.

Today I sing a song by an Ecuadorian group called Tranzas, the song is called "Morí". Talk about the sadness of losing love.

I invite you to join this competition.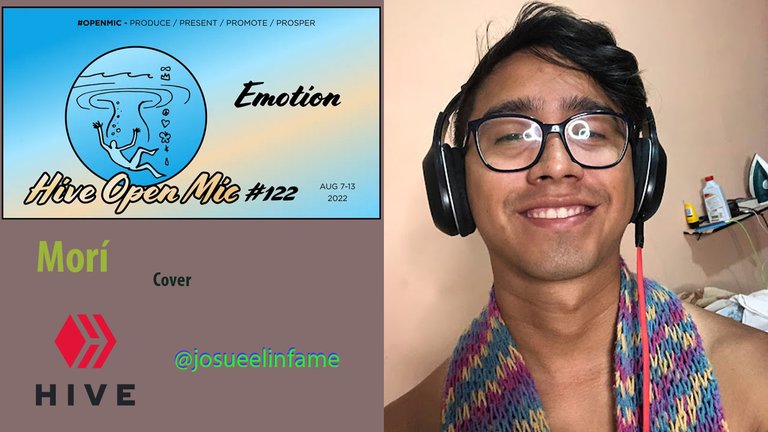 ---
Y preguntas por mí
que como me va,
haber como tomé
tantas cosas que hablé
de la soledad
que si estoy bien o mal
que si puedo reír
o si puedo llorar
Y preguntas por mí
por curiosidad
y quisiera decir
que te extraño a rabiar
que ya no puedo más
o se me pasará
pero ya no lo sé
yo ya no siento más
Porque ya no estoy aquí morí
morí el día en que te fuiste así de mí
no estoy,
camino por
las calles sin pensar
oigo sin escuchar
abrazo sin sentir
soy el único muerto que puede caminar
Porque ya no estoy aquí morí
morí el día en que te fuiste así de mí
no estoy,
sólo existe este maldito amor
que es más grande que el sol
no tiene compasión
no preguntes por mí
yo ya no estoy aquí
Y preguntas por mí
de casualidad
si salió a relucir
una conversación
como otra normal
si tenía la razón
o si yo estaba mal
no me puede importar
Porque ya no estoy aquí morí
morí el día en que te fuiste así de mí
no estoy,
camino por las calles sin pensar
oigo sin escuchar
abrazo sin sentir
soy el único muerto que puede caminar
Porque ya no estoy aquí morí
morí el día en que te fuiste así de mí
no estoy,
sólo existe este maldito amor
que es más grande que el sol
no tiene compasión
no preguntes por mí
yo ya no estoy aquí
(yo ya no estoy aquí
yo ya no estoy aquí)
Video Original


---
▶️ 3Speak