Hive Open Mic ( #openmic ) is a global community working for world peace through a love of live music. Each week is a new invitation to express and connect.
Hive Open Mic ( #openmic ) es una comunidad global que trabaja por la paz mundial a través del amor por la música en vivo. Cada semana es una nueva invitación a expresar y conectarnos.
---
🎵 Community Concert
Concierto Comunitario 🎵
Hive Open Mic 114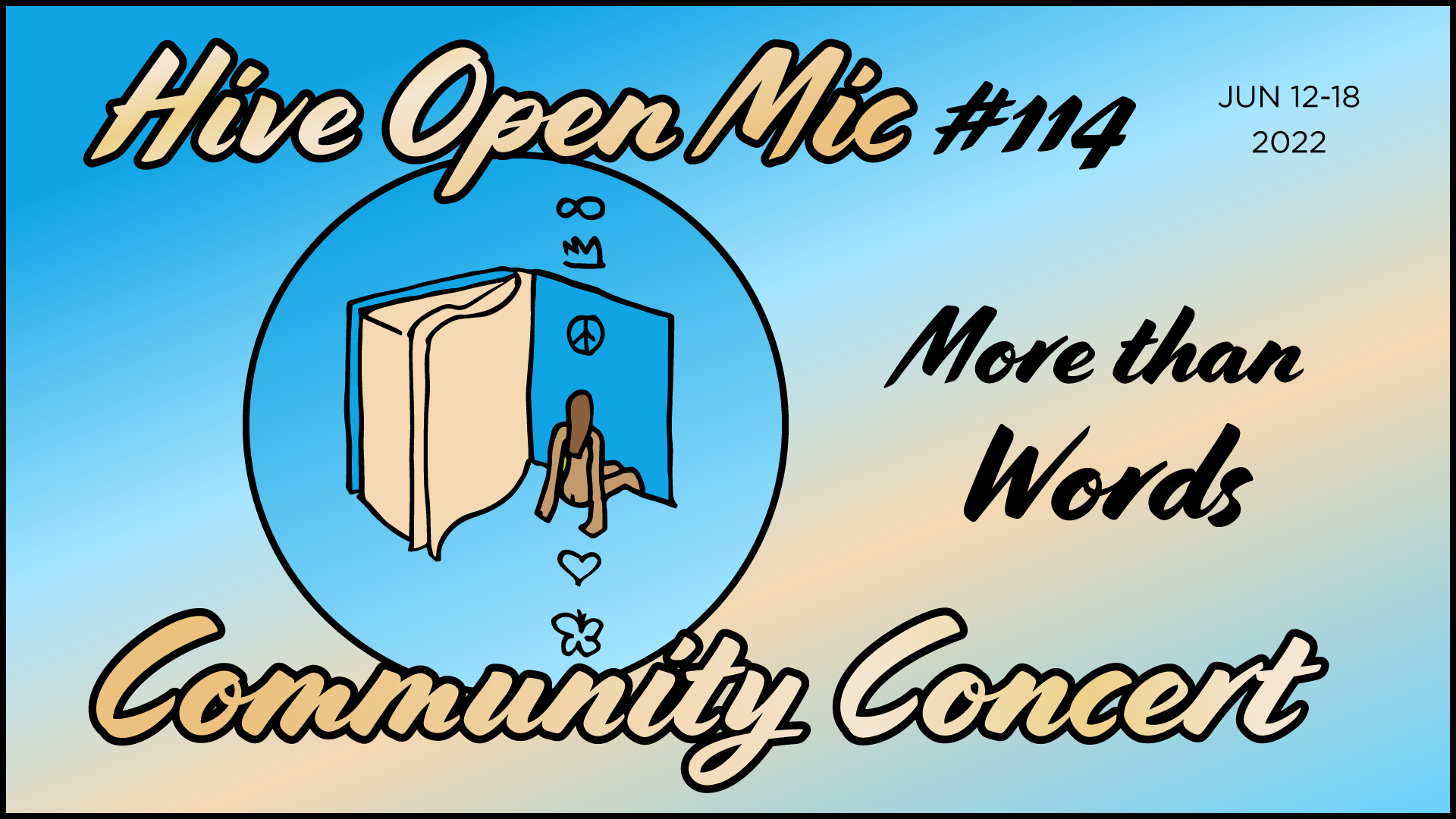 Greetings to all the brothers, friends and musicians of the Hive Open Mic! We are happy to present you this Community Concert of the 114th week, an edition where excellent artists participated and made themselves felt with their talent and creativity that has left us many radiant gems, new members and our usual Featured Artist. More and more users are connecting with the essence of sharing live music and supporting us through upvotes and comments that replace the applause that we cannot give in person.
¡Un saludo para todos los hermanos, amigos y músicos del Hive Open Mic!. Estamos felices de presentarles este Concierto Comunitario de la semana 114, una edición donde participaron excelentes artistas que se hicieron sentir con su talento y creatividad que nos ha dejado muchas gemas radiantes, nuevos miembros y nuestro acostumbrado Artista Destacado. Cada vez son más los usuarios que se conectan con la esencia de compartir música en vivo y apoyarnos a través de upvotes y comentarios que reemplazan los aplausos que no podemos brindar en persona.
💛
Moment of Silence
We invite you to join us for a community-wide moment of silence to remember our colleague @mariajruizb, who was one of the strongest pillars of our Hive Open Mic. Peace to her soul.
Le invitamos a unirse a nosotros para un momento de silencio en toda la comunidad para recordar a nuestra compañera @mariajruizb, quien fue uno de los pilares más fuertes de nuestro Hive Open Mic. Paz a su alma.
🕯️
✨
🙏
View the Original Post
---
Today's selection is a summary of the most memorable posts of the last week from June 12-18. The theme was "More Than Words", a proposal from our brother @davidbolu34, a multitalented musician who has stayed in our community for so many months that he is already part of this family in hive. We are happy to have artists like you in this global event David, let's start this Community Concert with your participation.
La selección de hoy es un resumen de las entradas más memorables de la última semana del 12 al 18 de Junio. El tema fue "More Than Words", una propuesta de nuestro hermano @davidbolu34, un músico multitalentoso que se ha permanecido en nuestra comunidad por tantos meses que ya es parte de esta familia en hive. Nos sentimos felices de tener artistas como tú en este evento global David, comencemos este Concierto Comunitario con su participación.
More Than Words (Cover) by @davidbolu34
View the Original Post
*Talented guitarist. This is great as always dear. I truly had fun listening to you. Well done and Much love ❤️ - @benii.
Awesome guitar playing @davidbolu34 is great, and you have chosen a beautiful theme, good luck to you. - @donirosayandi.
Indeed. Sometimes its best showing it rather than saying it 😊 - @chichi18.
---
🌟 New Spotlight Artist
Nuevo Artista Destacado 🌟
We are pleased to announce @osmely as this week's Spotlight Artist. A user who has become a pillar for our community. As a token of appreciation, we invite him to choose a new theme to inspire musicians for our 121th week. Osmely, please choose a theme that will guide us as we explore new territory as artists. Just name it in the comments below, and we're good to go!.
Nos complace anunciar a @osmely como el artista destacado de esta semana. Como muestra de agradecimiento, le invitamos a elegir un nuevo tema para inspirar a los músicos en nuestra 121ª semana. Osmely, elige un tema que nos guíe mientras exploramos nuevos territorios como artistas. Nómbralo en los comentarios de abajo, ¡y ya está!.
Se Puso Viejo Mi Viejo (Cover) by @osmely
View the Original Post
Aw, this song is so special. What a wonderful Father's Day tribute. And of course it is excellent in the way you carry the song vocally, along with the gift of @jhonymedina's accompaniment. Much to admire here, thank you very much! - @cabelindsay.
Que hermosa interpretación querida Osme, cada dia es para nosotros un honor escucharte y verte acompañada de tu amado, los 2 son unos exponentes maravillosos de la música criolla y nos sentimos orgullos de tenelos en esta armonía. Queremos algún día que nos enseñen esos tips para tocar cuatro y cantar de esa forma. Féliz día del padre a nuestro querido Jhony. Dios le bendiga amigos ⭐🎶🙏🏼 - @musicandreview.
---
🔥 Bright Newcomers
Nuevos y Brillantes 🔥
View the Original Post
Bienvenido amigo Rodolfo es un honor tener un talento como tú en nuestra comunidad! y si tienes razón acá nos caracteriza ese amor cálido y valor especial que les tenemos a nuestros miembros, gracias por sumarte y no dejes de traer tus entradas. - @musicandreview.
Hola, rodolfomandolina, qué bueno que hayas traido este tema, que en su momento fue también el que identificó una telenovela venezolana, y el argumento de la misma se basó en la historia sugerida por esta canción. - @sayury.
---
So Good (Cover) by @sholex94
View the Original Post
Welcome to Hive Open Mic sholex94 :)) Hope you'll have a good time here in the community 😎 And thank you for your entry - @mipiano.
Hello sholex94. This entry is lovely bro. I love the sound of your guitar. Your voice is also a blast. Thanks for sharing this and welcome to hive open mic - @onos-f.
---
💎 Radiant Gems
Gemas Radiantes 💎
More than I can say (Cover) by @anna-newkey
View the Original Post
"Tis a poignant one! I remember my dad was a big Leo fan. Splendid stuff!" - @meesterboom
"I love this entry more than I can say!!! 🙌🙌 Anke girl, you are rocking!! Thank you for bringing your talent and this quality!!" - @mipiano
"Woow great!!! Beautiful and emotional chords and voice 👏👌 Keep up the good work 💯💥🍻🔥" - @discouragedones
---
We plough the fields (Cover) by @onos-f
View the Original Post
"Oh man, I admire your percussive way of playing the guitar. Your voice is brilliant! And It's a lot of fun witnessing the way you move from one instrument to the next while keeping the vibe alive. So impressive! Thank you for sharing your musical gifts with the Hive Open Mic community!" - @cabelindsay
"Wow, this is called being multifaceted, we love how you add each instrument and how you keep time with your body, you are super talented my dear friend, this kind of performance is not seen very often on the platform. Congratulations dear friend, let's continue to support the other members so we can keep growing. Greetings!" - @musicandreview
---
El Mejor Error / The Best Mistake (Original) by @elisonr13
View the Original Post
Hola amigo elison13 ¡Qué encanto! Es primera vez que te escucho, ya lo sabes eres un artista en potencia amigo, tu voz, tu guitarra , esa canción con una letra ideal para esta semana , "Cuando tu me miras mis palabras callan" esta frase es hermosa, siempre he sentido profunda admiración por los artistas que componen sus canciones y con este estilo tan poético, que Dios te bendiga ya te sigo, lo disfruté! Feliz día. - @lisbeth26.
Beautiful voice and nice and clean playing 👌👌👌 - @discouragedones.
Tocas la guitarra profesionalmente 💙🙌🙌💜🎤🎶
Disfruté escuchando tu entrada 🙌🙌🎻🎻🎸🎸💕💜🎶🎶💙 - @ovey10.
---
Never Enough / Nunca Es Suficiente (Cover) by @benii
View the Original Post
Lovely, as always you sang gracefully❣ I loved it🌈💟 - @bernice001 .
I love love love this song and you killed it girl, I could never attempt it.
Look at me smiling. - @khaleesii .
This is amazing gurl🥰
I almost felt like I was in a live concert..lol
Welldone dear!✌️ - @niglys .
---
Remontaré En Las Nubes / I Will Soar On The Clouds (Original) by @jesusmedit
View the Original Post
Saludos, hermosa interpretación te felicito muy buena canción - @ingridmar .
Jesús cómo estás? Bienvenido a la semana 114, oye esta canción está muy genial y el acompañamiento de Francisco sin duda fue lo máximo admiro su forma de tocar la guitarra; me gustó la letra, los arreglos, la melodía y como la cantaste, te felicito por ello hermano 🤜🤛... la canción la escribieron entre los 2? o mejor dicho, cuéntame cómo fue el proceso de composición, de verdad está muy buena 🙌😀💛!!! - @fernanblog .
---
How will I know (Cover) by @sleemfit
View the Original Post
You have done wonderful in the company of this instrument the Piano! that in itself sings alone for me, however, your voice and the feeling put into this song has wrapped my soul! you are great. Greetings to your friend, welcome to #hive, I'm going to follow him to be aware of the next thing he shares with us! Hugs - @lisbeth26
Guyyy..this is so good... I saw Sam Smith how will I know and I just had to listen. Turns out you didn't disappoint at all.. I'm really glad you executed the song well...you killed it man - @nelson-george
Nice one dear I must really comend your voice it so unique pls am a newbie I need a step by step guide on how to upload a video on this platform, am teachable and ready to learn - @rhozolive
Really nice performance @sleemfit, great voice and the bro in the keyboards yeah, really accurate. Good luck have a nice weekend - @ricardomello
---
Mientes tan bien (Cover) by @mirel0510
View the Original Post
😀😀 mi bella mire, te entiendo muy bien, 🥰 me pongo en tus zapatos ya también tengo un niño de 2 años y tampoco casi me deja, tengo que esperar que se duerma o lo saquen a pasear y es que aprovecho, pero estás aquí y es lo importante, tu presentación te quedó muy hermosa, 🥰 me encantó tu voz como siempre tan bella, y la guitarra suena espectacular, mi bella gracias por tu participación, 🤗 Dios te bendiga - @adrianalara
Felicidades amiga, tienes muy bonita voz y ejecutas muy bien la guitarra...... gracias por mostrarnos tu buen talento, saludos....🤠😊😁😀 - @victor1979
Muy hermosa interpretación amiga te felicito por todo el esfuerzo que realizas.Exitos bella 🤗🤗 - @beth78
Amiga @mirel0510 que extraordinaria interpretación nos trajiste está semana , tu voz como siempre tan afinada y dulce, gran tema y buen acompañamiento, en cuanto a lo que te sucedió para grabar creo que a la gran mayoría nos pasa je je je nos tocan el timbre, ladra el perro o simplemente nos llega visitas inesperada, lo bueno es que lo pudiste realizar y te quedó fabuloso, un gran abrazo🌟💫🌹💖💚❤️💕 - @nellynohemi
---
5 Siglos (500 Years - Andes Folklore) , by @palimanali
View the Original Post
Amigo que fino que este aventurándote con ese nuevo instrumento ha sido un gusto acompañarte. Saludos. - @almeidamusic
BEAUTIFUL!!!! Thanks @mipiano for tagging me on this one! @palimanali , you've done a great job here, I really dig your quena style! - @albuslucimus
This is your first performance playing the Quena? I think it loves you, it gave you a nice sound :) - @mipiano
---
Song Without Words, Op. 30, No 1 (Cover) by @mipiano
View the Original Post
Omg, Felix Mendelssohn is such a great composer, more than Mendelssohn fits the theme of the week, the theme of the week fits Mendelssohn. I loved the performance, thanks for sharing - @jkalthor
Pocas veces coincido con sus trabajos, ero me alegra verle en esta mañana de sábado. Es glorioso lo que hace con sus manos y su instrumento. Un aplauso para usted de pie y mi felicitación de todo corazón. Me quito el sombrero. - @jhonymedina
This beautiful piece expreses a lot without words. I can see why they are considered romantic songs, this one has some much feeling.
The piano is such an extraordinary and magic instrument, it can really take you places, it makes your mind fly, especially when it is played by such a professional and talented pianist like you. Thanks for this gift. - @rosana6
Oh wow... this is absolutely beautiful. Truly wonderful playing! I was captivated the whole time, amazing:) can't wait for more! - @sunsethunter
---
⭐ Acknowledgements
Agradecimientos⭐
Today's curated concert presents a small selection of outstanding songs from various nations, skill levels, and musical genres. Numerous other live music performances can be enjoyed, beyond this concert. Our intention is to celebrate the excellent artistry, the supportive community involvement, and above all else: Global Harmony—this is what our community stands for.
El concierto de hoy presenta una pequeña selección de canciones destacadas de varias naciones, niveles de habilidad y géneros musicales. Además de este concierto, se podrá disfrutar de otras muchas actuaciones musicales en directo. Nuestra intención es celebrar el excelente arte, la participación solidaria de la comunidad y, por encima de todo, la armonía global: La armonía global es lo que representa nuestra comunidad.
Behind the scenes, Hive Open Mic moderators devote extraordinary energy each week to listening, commenting, curating and creating for this community. The moderation task is a big undertaking, led this week by @cabelindsay, @mipiano, @jesuslnrs, @musicandreview and @fernanblog. This week, our community has 3,239 subscribers, 268 active users, 2,603 interactions and 2,150 pending rewards.
Entre bastidores, los moderadores de Hive Open Mic dedican una energía extraordinaria cada semana a escuchar, comentar, comisariar y crear para esta comunidad. La tarea de moderación es una gran empresa, liderada esta semana por Cabe Lindsay, Mi Piano, Jesús Linares, Fernando Benedetti, Omar y Dina. Esta semana, nuestra comunidad cuenta con 3.239 suscriptores, 268 usuarios activos, 2,603 interacciones y 2.150 recompensas pendientes.
Thanks goes to the OCD Community Incubation Program, who rewards our musicians with generous upvotes. Gratitude goes to every musician who expressed, plus every listener who connected through comments, upvotes, claps, and finger snaps. Thanks to all music lovers. May the harmonizing power of music generate peace around the world. So be it.
Gracias al Programa de Incubación de la Comunidad OCD, que premia a nuestros músicos con generosos upvotes. Gracias a todos los músicos que se han expresado, y a todos los oyentes que se han conectado a través de comentarios, votos positivos, aplausos y chasquidos de dedos. Gracias a todos los amantes de la música. Que el poder armonizador de la música genere paz en todo el mundo. Que así sea.
---
🌞 Invitation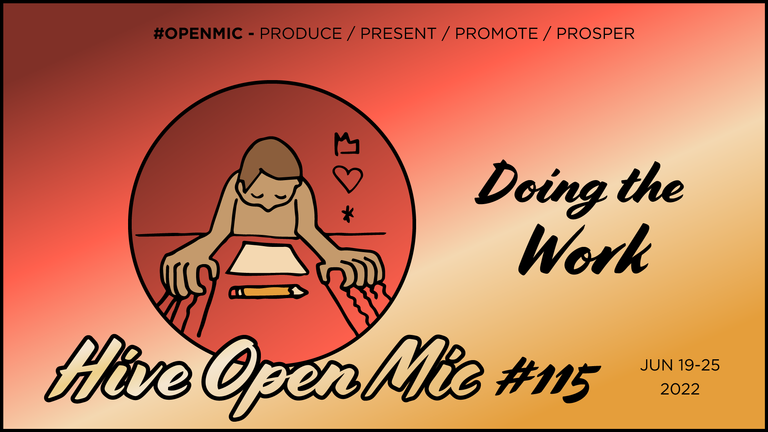 Hive Open Mic - Week 115 is underway now.

This week's invitation is: "Doing The Work" (Haciendo El Trabajo)

---

---