---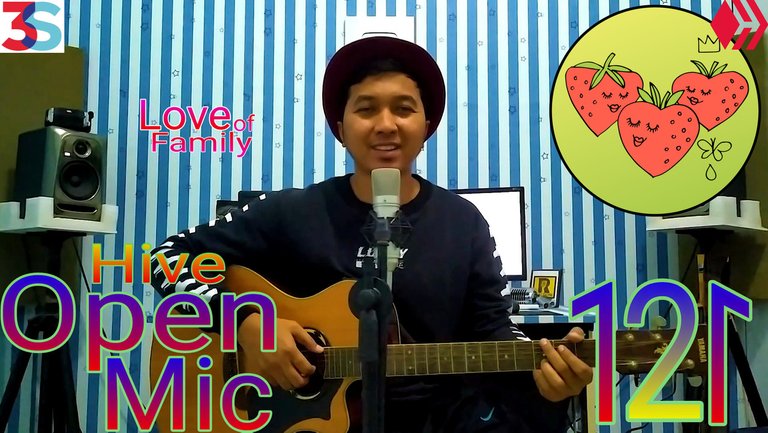 Hi Hivers, how are you all? I'm sure we're all fine. By the way, my name is @donirosayandi, I'm a guitarist. On this occasion I will sing for the 121st week of the Hive Open Mic #openmic contest with theme: "Amor de Familia." In English, this means: "Love of Family." This theme is chosen by our recent Spotlight Artist: @osmely.
For this week's theme I have prepared a good song, a song yang related to the theme, namely the song called "Harta Berharga", this song was popularized by "Bunga Citra Lestari."
"Harta Berharga" is the theme song for the Cemara Family television series, which was popular in the 1990s in Indonesia, which was later made into a big screen version in 2018. Arswendo Atmowiloto is the person who knit the lyrics of the song.
The Cemara family tells of the precious values ​​found in the famiy. A simple family life does not reduce the value and meaning of the family itself. It is in the family that we learn about love, life values, character, caring for and sacrificing each other, filial piety, and other good things.
In the family we also feel the warmth. sometimes when we are at school or at work, we get a lot of problems and challenges.
However, when we return home, the presence of family gives us warmth and relief, and we are ready to face these challenges and problems again.
This is ideally a family, a precious treasure that is very valuable and difficult to be owned by any expensive property.
Now, the song has become popular again since the release of the film Keluarga Cemara on January 3, 2019. In fact, the song was trending number 3 on Youtube after being uploaded to the Aquarius Musikindo Youtube account on December 10, 2018.
The lyrics of the song Harta Berharga tells about the importance of the role of a family.
The most valuable treasure is family
The most beautiful palace is family
The most meaningful poetry is family
The peerless pearl is family*

Along with the return of the film Keluarga Cemara in today's modern era,
Aquarius Musikindo and Visinema Picture collaborated to produce the soundtrack for the film Keluarga Cemara to make it look more modern.
One of them is by choosing Bunga Citra Lestari as the soundtrack for the film Keluarga Cemara.
The singer who is familiarly called BCL is considered capable of representing Indonesian women who have families in the modern era.
The song Harta Berharga also sounds different when sung by BCL, but still maintains the iconicity of this song.
Source : https://surabaya.tribunnews.com/2019/01/05/lirik-lagu-harta-berharga-soundtrack-film-keluarga-cemara-yang-rilis-di-bioskop-pada-3-januari-2019
I chose this song, because it fits the theme chosen by our recent Spotlight Artist: @osmely That is Love of Family.
Here are the full lyrics
Bunga Citra Lestari - Harta berharga
Harta yang paling berharga adalah keluarga
Istana yang paling indah adalah keluarga
Puisi yang paling bermakna adalah keluarga
Mutiara tiada tara adalah keluarga
Selamat pagi Emak
Selamat pagi Abah
Mentari hari ini berseri indah
Terima kasih Emak
Terima kasih Abah
Untuk tampil perkasa bagi kami putra putri yang siap berbakti
Lyric sources : https://www.lyricfind.com/
---
▶️ 3Speak